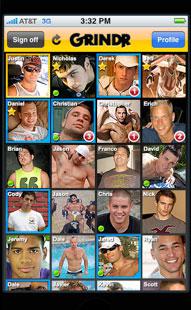 A confession: Last March, a few weeks after the Grindr app launched, I downloaded it to my iPhone and joined the Grindrs, sans photo. This was an odd thing for a heterosexual thirtysomething woman to do. Very odd. As Lauren explained , Grindr is for gay, bi, and curious men only. I was at a dinner party hosted by a gay couple who happened to be friends with the app's inventor, Joel Simkhai, and we were talking about the genius of Grindr, the sheer efficiency of it all. I was curious about how Grindr would feel to a woman. Was Grindr the next frontier of heterosexual dating or friendships? (Friendships, too, are cultivated by proximity.)
Within seconds, headshots of fellow Grindrs began appearing on my screen, in order of proximity, and … I screamed "Oh my God, there's a man right here!" There was a man, "at home alone," according to his blurb, located a mere five feet away from our dinner table. Was he next door? Should we text him and invite him over for a martini? It was exciting, titillatingly easy. It also didn't feel dangerous; it felt innocuous and neighborly, since the men listed first are, in fact, your neighbors.
About a week after joining, I came to the conclusion that I would probably never feel comfortable "grinding." I haven't even attempted online dating (not even the innocuous JDate-sorry, bubby). I have yet to post or even responded to a Craigslist ad. But I might be persuaded to join a hetero Grindr if there were levels of intent, perhaps ranging from "just coffee(for now)" to "come over and do X to me." It's really fun.
---