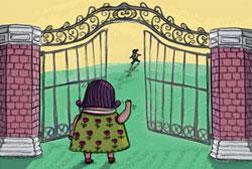 "I feel like I'm always saying hello or goodbye to somebody." Sam said as we drove him to the airport at the end of Christmas vacation, and I knew the feeling. His sentiments reminded me of my own college days—more specifically of my many long-distance love affairs—when I was such a fan of dramatic reunions and heartbreaking separations. These days, I've lost the taste for the manufactured drama of my college years, because now I have real drama in my life. Putting Sam back on a plane to New York merely afflicted me with another one of those tiny, unwelcome heart lacerations that parents just have to get used to.
With one semester down, I am learning to maneuver nicely around Sam's absence. But I am still living with a school calendar in my head, albeit a different one: Instead of remembering PTO night or swimming lessons or the prom, I am keeping careful track of the weeks between Welcome Week and Parents' Weekend (six), Parents' Weekend and Thanksgiving break (five more), the three short weeks between Thanksgiving and Christmas, and now, the 10 or so weeks between now and spring break.
 "I just wish I had something to say to my kids," a friend of mine lamented absently. Another shooed the air with his hands and made a sound like pish to signal good riddance. But despite the boxers back on the bathroom floor, the car again blocking mine in the driveway, and the contact lens solution bottle once more MIA from the bathroom, my husband John and I were both happy to have Sam back home. When Sam told me, within hours of arriving in December, that he wanted to spend part of the summer at a ($4,000, three-week) school program in Ghana, I found myself cursing the modern globalized age. My mother had wanted me to take a semester of college at a Sotheby's program in London, and I thought she was out of her mind. Why in the world would anyone want to do that?
It occurred to me soon after Sam got home, in fact—when I felt lighter, happier, and had exercised my bragging rights insufferably about his adaptation to college—that the term empty nest is a misnomer. These are more like yo-yo years, when you send your children off into the world and then welcome them home at select intervals, just when you are almost used to them being gone. I suppose this is what all the self-help books call "forming an adult relationship" with your child.
I suspect it's not entirely smooth for the child, either. A few days before Sam was to return from New York, an arctic front began sweeping across the Canadian steppes. I used to commute frequently between New York and Houston, so I knew what this meant. At 2:40 a.m. on the Saturday that Sam was supposed to arrive, we got the call telling us that his flight was canceled. The earliest Jet Blue could get him home would be Tuesday, which would cut Sam's trip from 17 days to 14—an eternity for a teenager. Fresh from a week of exams, Sam sounded like an inmate at a gulag whose release had just been postponed; John, disappointed, wasn't far behind. Me? Like my husband, I jumped into the old routine of Mom and Dad will fix it, which in psychiatric terms could be called wish-fulfillment.
The snow had not yet begun to fall in New York, so Sam still had time to escape. "Get to Penn Station," we told him, where he boarded a train to Atlanta, where, we assumed, he would be able to catch a flight home. "The snow is beautiful," he texted, as he headed south. "Thank God I did this. Plus, it's fun to look at everything." Friends were hearing they wouldn't be getting out of New York for days on their rescheduled flights; if they were lucky, they'd be home for Christmas. "Ours is the kid who is going to make it home," John said, so pleased with our canniness. No storm was going to cut into our quality time with our son!
As you may or may not recall, this particular record-breaking storm swept through Virginia from the west and then turned north. It intersected Sam just above Washington, D.C., where the train came to a complete stop. For about 10 hours. A college student sitting behind Sam started weeping because she wouldn't make her connections in time to meet her family for their Caribbean cruise. He changed seats. Everyone on the train, he said, seemed to have tuberculosis, the subject of one of his final papers. As the coughing, sniffling, and weeping became more persistent, Sam's texts got increasingly testy, especially after it was clear that he would not make it to Atlanta in time to catch the plane home. "I hate snow. I hate snow. I hate snow," was one, followed by the doleful, "I really feel like I'm never getting home." A few minutes later we got the same sentiments in caps accompanied by the F-word. He said he might take NyQuil just to get some sleep. "Yeah, do that," we wrote back, up for anything by this point
Sam woke up around 11 a.m., just a few minutes outside of Charlotte, N.C. My other brother, Jeff, lives in Charlotte. We could pull Sam off the train and put him on a plane there. He could be home by Sunday! Well, one missed connection later—crew delay—Sam was spending the night in an airport hotel with a rescued 17-year-old. He also made friends with an evangelical Christian who told him, "God has a plan for you. You are going to get home." He did. Late Monday afternoon. We went out for Mexican food, and then Sam left to see his girlfriend for the rest of the evening. "Love you guys," he said, going out the door.
I would say that he worked us into his schedule pretty well for the next two weeks, which turned out fine, since neither John nor I have the kind of jobs we can put aside for very long. Sam slept most mornings, and sometimes we met for lunch. He saw his friends in the afternoon, and met us for dinner. He went out; we walked the dog and went to sleep. I loved the way the house filled up with Sam's friends again. I remarked on how much they'd all changed and listened to their exploits. Just hearing the sound of their voices and their laughter made me happy. It reminded me of falling asleep to the sound of cocktail parties as a child—feeling safe and cared for and connected all at once.
Of course that was a sweet illusion, shattered soon after I learned that the New Year's Eve party scheduled a few doors down at Sam's friend Sara's house had been abruptly moved to ours. My only rules were no driving—I wasn't silly enough to think they wouldn't be drinking, though we provided no alcohol—and no one could be outside between 11:45 and 12:15, when Houstonians like to shoot their guns in the air. (It's true—there was even a CSI on the subject.) Sam assured us that everyone who came would either be sleeping downstairs or at Sara's. He was vague on the total number of guests. I felt so confident that I scheduled a dinner with a friend til 9 or so, when we got a call from Sam asking, one octave up, if we were "coming home soon."
We walked into a scene that looked like one of those MTV reality shows, where all the kids are perfectly formed and dressed in hoodies and Uggs. A few of them even said hello. Feeling thirsty, I moved to the bar and amid all the soft drinks and Cran-Apple juice spied a bottle of Perrier that was nearly empty. I chugged, and felt something like boiling acid shoot from my frontal lobes to my earlobes. Bacardi, of course.
Pretty soon after that, many of the kids moved on to other parties with, I suspect, fewer parents. (So much for "No driving.") Those staying the night contented themselves with cookies, cake, and the Coronas and Early Times bottles I found outside the next morning. (No, not once did I smell any weed, but that might have been because the rum had blown out my sense of smell.)
And then, a few days later, it was time to head for the airport. We asked Sam if he was sure about taking French and Spanish next semester. He said he had it in hand. We said we'd mail him his cologne so it wouldn't break in his suitcase. We gave him money for cab fare from Newark, N.J., and said we'd visit him the weekend of Presidents Day, unless, of course, he wanted to come back home. Spring break seemed a very long time away.
---