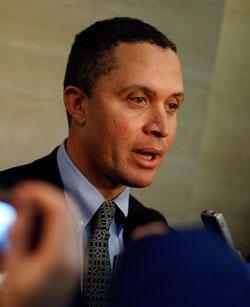 It's pretty silly that the New York Times profile of New York Senate hopeful Harold Ford's wife, Emily, calls the former fashion publicist "normally publicity-shy." First off, she used to be a publicist. Furthermore, there is a second article about Emily Ford published today, this one in the Daily Beast . As the Beast Points out, Harold did a "softball interview" with the New York Post 's Cindy Adams in which he could not stop gushing about Emily and the couple's aged chihuahua, Fabby. It seems like Emily doth protest too much, especially since, according to Harold in the Post , "She's my director of research, checks my daily schedule and the people I'm seeing … Today she's into marketing so she works from home, our condo in the Union Square Flatiron District, and she is totally involved in this decision." Hardly the shrinking violet, that Emily.
But the coverage of Emily Ford is not entirely irrelevant. Both the Times and the Beast discuss the campaign ad that some think helped derail Ford's Senate bid in Tennessee in 2006-the ad showed a white woman seductively calling Ford, who is black, and according to the Times, it "played to racist fears." But the more compelling subtext of the Times profile of Emily Ford is the recent humiliation of political wives Jenny Sanford and Elizabeth Edwards -both of whom are mentioned in the article. Ford had a reputation as a ladies' man before he settled down, dating Georgetown coeds well into his 30s, and now he seems incredibly concerned with proving how happily married he is .
Considering the recent obsession with politicians' wives, the interest in Emily Ford is understandable-but it doesn't make the articles about her any more noteworthy. The most hilariously banal part of the Times profile is the section in which the author tries to convince the reader that fashionista Emily Ford is just like us:
Despite gilded-class assumptions raised by Ms. Ford's fashion pedigree and her mother's wealthy third husband, Anson Beard Jr., a former Morgan Stanley senior executive, Ms. Ford quickly points out that she grew up in Naples, Fla., playing paddleball as a teenager and perfecting her tan. "I am not an Upper East Side heiress," she said emphatically.
What an impressive rise from a hardscrabble background of paddle ball and tanning! Is "I am not an Upper East Side heiress" the new "son of a mill worker "?
Photograph of Harold Ford Jr. by David Goldman/Getty Images.
---