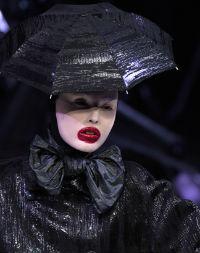 It's hard not to speculate about the suicide of Alexander McQueen: What drove him to tie a noose and hang himself? Various possibilities have been trotted out. There is the 2007 suicide of his earliest supporter and confidant Isabella Blow, the woman who singlehandedly lifted him out from poverty. She tracked him down after his student show at Central Saint Martin's in 1991 and bought his collection for 5,000 pounds, which McQueen promptly hand-delivered-in trash bags.
McQueen suffered another great loss last week. His beloved mother Joyce died. She was his greatest booster. I don't mean to diminish his suffering, but perhaps we should pause for a moment and look back at his recent dystopian work-because the man was a genius artist, and there was a perceptible shift that occurred one year ago in his fall 2009 collection .
Critic Sarah Mower wrote this after viewing:
It was certainly meant as a last-stand fin de siècle blast against the predicament in which fashion, and possibly consumerism as a whole, finds itself. The set was a scrap heap of debris from the stages of McQueen's own past shows, surrounded by a shattered glass runway. The clothes were, for the most part, high-drama satires of twentieth-century landmark fashion: parodies of Christian Dior houndstooth New Look and Chanel tweed suits, moving through harsh orange and black harlequinade looks to revisited showstoppers from McQueen's own archive
As I clicked through the slides, I felt despair and sorrow. It was the first time a fashion show-viewed on a laptop screen in slideshow format, no less-made me cry. The trash-bag fabrics, the recycled silhouettes, the magpie prints, the grotesque red lips parodying cosmetic surgery … the scrap heap. The show was not suggestive of anything. It was retrospective, darker than anything I have ever seen on a catwalk. I wondered: What else can he say? I considered the possibility that the show might be his last. It had all the elements of a grand farewell.
The genius took his own life, but his work remains. Of course McQueen will never run out things to say.
Photograph from Alexander McQueen's 2009 collection by Francois Guillot/AFP/Getty Images.
---