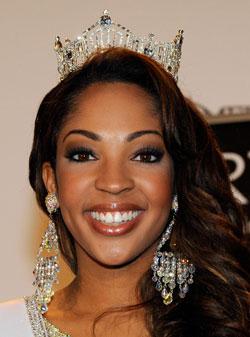 Amid little fanfare, the Miss America pageant aired live from Las Vegas Saturday night. The event barely made a ripple, except among a few entertainment and feminist bloggers eager to (again) ponder its lack of relevance and implicit sexism. Growing up in Georgia (the heart of pageant country), I attended a public high school that hosted two student beauty pageants every year. Like those dismissive bloggers, I used to give them the eye-roll treatment, too. But after years of watching romantic comedies and flipping through women's magazines, I've come to love pageants for their honesty.
Many Gen Y women still feel a sometimes unbearable pressure to be "effortlessly perfect"-a phrase coined by researchers at Duke University in 2003 to describe the pull young women feel to be "smart, accomplished, fit, beautiful, and popular," without visible effort. In this cultural moment, I've come to respect pageant contestants for their blindingly obvious effort. Makeup, bleached teeth, and sprayed-on tans are celebrated. Pageants are simply a more honest manifestation of our whole beauty-obsessed culture-and I find that liberating.
At Miss America, you won't find any ethereal, Angelina-like waifs floating around. Instead, when the girls strut across the stage in bikinis and heels and Bumpits, their bodies are chiseled and curvy and human. Some look "like armor," noted former Miss America Susan Powell in this year's TLC pre-show. They appear to have worked damn hard to look camera-ready. They tell me: Don't be ashamed to spend time in front of the mirror primping-or to (gasp!) apply lipstick in public.
And so I say: Give Miss America a break. She may no longer represent who we aspire to be, but in one important respect, she represents who we are.
Photograph of Miss America winner Caressa Cameron by Ethan Miller/Getty Images for Planet Hollywood.
---