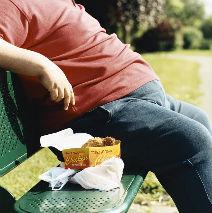 It was a mere seven months ago that the New York Times declared the distended male gut part of the new "unvarying male uniform" in a piece that honestly read like an Onion satire of vacuous trend journalism. (Choice quote: "Hipsters, by nature contrarian, according to Dan Peres, the editor of Details , may be reacting in opposition to the president …' If we had a slob in the White House, all the hipsters would turn into some walking Chippendales calendar.' ") But, oh, how things change! Just yesterday, Spanx, the makers of those shape-contorting nylon chokeholds for female abdomens, unveiled a line of gear intended to compress the wobbly bits of menfolk. So reports the Wall Street Journal :
At a suite at the Bryant Park Hotel this afternoon, the brand that revolutionized red-carpet dressing with products like "Power Panties" and "Slim Cognito" bodysuits unveiled a simple mini-collection of undershirts for guys: tank tops, v-necks and crewnecks. Made of Egyptian cotton, the 19% spandex shirts are said to conceal beer guts, smooth the body, and generally make men look fitter-even though, to the untrained eye, the undergarments look exactly like a normal shirt. (The prices, $55-$58, are another story.)
What does it all mean, besides that the gym-tan-laundry imperative of the Jersey Shore men has perhaps had some influence? Well, maybe men are swayed by Hollywood bodies, the pressure to be fit, and are just a wee bit insecure about their bodies too. (That's definitely what Spanx founder Sarah Blakely discovered-she created the line after receiving e-mails from men pleading for male shapewear.) Finally, some evidence that body image is a gender-equal issue! I can breathe again. Oh wait, no I can't. I'm wearing Spanx.
---