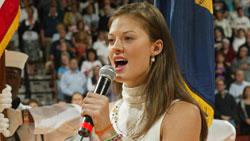 Lauren and Meghan , I totally agree with you that a cultural double standard prevents women from getting away with the kind of self-promotion that men see as a natural right. And for evidence I turn to … well, us.
Lauren, in your post on Clay Shirky's "Rant About Women," you seemed to lament the fact that an outspoken woman will draw charges of being "a bitch, a dyke, or other unsavory labels." Like "Tracy Flick," maybe? That's what you called Ayla Brown, a 20-year-old singer whose Web site is a little over-the-top, the day after you posted on women's reluctance to self-promote.
I'm sure you aren't the only woman in America who rolled her eyes when she checked out Ayla's site . I'm sure because I did, too. "The anthem girl"? Really? But wait, why is our reaction to a young singer with a Web site disparagement for enumerating her every accomplishment? She's an aspiring artist trying to make a name for herself-of course she has a Web site! It's exactly the sort of self-promotion that Clay Shirky would be proud of. But it's also exactly the sort of the self-promotion that's going to remain rare among women if every time they attempt it, we respond with taunts of "Tracy Flick."
Photograph of Ayla Brown by Ray Amati/NBAE/Getty Images.
---