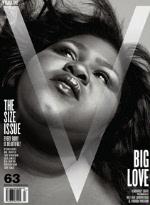 Yesterday's New York Times finally (finally, because the subject of the article has been debated all over the Web for nearly a month now) gets to the "plus-sized" model debate with a profile of modeling megastar Crystal Renn. Renn, who is Ford Models' most successful and recognizable plus-sized model, has been making headlines since the release of her memoir Hungry back in October. The profile was occasioned by the release of V magazine's size issue, which hit stands today and features Renn.
The article rehashes the usual bullet points: Crystal and her colleagues are not plus-sized; they are plus-sized for models . Still, is this a marker of some kind of progress? She is a size 12, after all, which might be plus on the runway, but it's pretty darn normal in real life.
I believe that the size issue represents a positive challenge to the industry and image-makers. But I'd be lying to myself and DoubleX readers if I didn't also voice my doubts. What does the pining for all-inclusiveness say about women's narcissism generally? It might seem more equitable for the fashion industry to be more inclusive, but it is also kind of warped for women-all women-to demand representation in a fashion magazine or any publication for that matter. Why does everybody have to be special?
Jezebel contributor Jenna Sauers (an acquaintance) recently had this to say on the matter:"Of course, the other side of the coin is that any time there's diversity in the types of women elevated and glorified by magazines, it's a good thing. Because using makeup, fashion and photography, magazines represent a fantasy - but all types of women deserve to see themselves reflected in that dream."
It's tempting to tow this line. But I just don't believe in it.
In the discussion for expanding the industry standard of beauty from the standard mode-symmetrical features, 5'9" and 34-24-34-perhaps we need a reminder that no matter how unfair it is, beauty or charisma or whatever it is that gives a woman that something that snags the eye-well, not every gal's got it.
I hope magazines continue to employ women who veer significantly from the standard ideal. But that's different than claiming every woman has the right to see a reflection of herself in a fashion magazine. Because not every woman is appealing to look at.
---