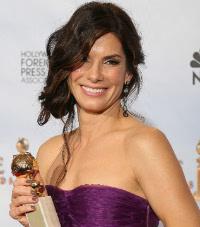 On the New York Times' Carpetbagger blog, Melena Ryzik wonders if Sandra Bullock's Golden Globe win for The Blind Side means there will be "a slew of laurel-wreathed sassy, funny ladies" coming to the multiplex. Perhaps, but only if those sassy ladies have golden, mushy hearts beneath that slightly bitchy veener. As A.O. Scott wrote in his review of The Blind Side , that film is like "a two-hour holiday greeting card ." Bullock was also nominated in the best comedic actress category for her performance in The Proposal -and though her character may have been "sassy" in that movie, she was also an empty career woman who only found happiness when she finally found a man and relaxed those nagging ambitions. Not much of a step forward in the lady-role department. None of this is to say that Bullock is not deserving of awards-her onscreen presence is magnetic and she is a pleasure to watch-it's just that her win is not necessarily indicative of much.
Mo'Nique's win for best supporting actress in Precious is more of an implication that Hollywood may be accepting of less traditional female performances . As Mo'Nique said to Ryzik post-win, "I really think the message outweighed everything, the message of the movie. … And when you really start talking about nonjudgment and love."
Photograph of Sandra Bullock by Valerie Macon/AFP/Getty Images.
---