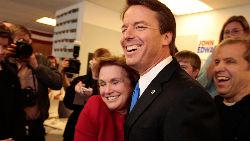 Almost two years after Frances Quinn was born to his mistress Rielle Hunter, John Edwards is finally admitting paternity exclusively to the Today Show . But it's not because the former presidential hopeful has had some sort of emotional revelation and now wishes to come clean-it's because his former aide, Andrew Young, was about to go on 20/20 and out Edwards as the dad anyway. The only person who comes off well in this situation is Elizabeth Edwards, who knew about the paternity since last summer and encouraged him to be honest about his love child for months, as Hanna pointed out in the DoubleX Gabfest last week . Oh, and I suppose the National Enquirer comes off well, too: They were right all along.
In the statement he released to Today , Edwards said that he is supporting Frances Quinn financially and emotionally, and his friend and advisor Harrison Hickman went on the morning show to do damage control on behalf of Edwards. When asked why Edwards waited so long to admit paternity, Hickman said something vague about how there are "a lot of adults involved who wanted to handle this the right way." The interviewer also pointed out that Edwards fathered the child after Elizabeth's cancer returned, even though he initially said the affair with Hunter occurred when her cancer was in remission. To that information, Hickman stuttered, and then replied, "You're right, he's been deceitful." What a sad, sordid situation.
Photograph of John and Elizabeth Edwards by Chris Hondros/Getty Images.
---