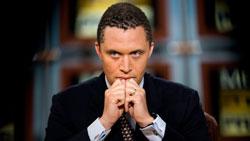 Harold Ford, Jr., has Senate ambitions , and Kirsten Gillibrand, New York's junior senator, stands in his way. All standard fare. Except now that the sexist taunts of the 2008 campaign are being revived in columns and a couple of new books, I have to ask: Is Ford talking about Gillibrand this way because she's a woman?
Ford's line on Gillibrand is that she is a patsy to the older gentleman in her party, especially Harry Reid and New York's senior senator, Chuck Schumer: "Harry Reid will not instruct me how to vote," he said, adding, "We have a fundamental difference on independence. We have a difference on the level, the kind and the stature of advocacy New Yorkers deserve."
What kind of stature does Harold Ford have, exactly? Last I checked, he lost a Senate race and she won. Also, it seems perfectly routine for a first-term junior senator to defer to the long-serving senior senator of her state.
Is this woman-baiting? Ford's criticism tracks exactly the twin tropes the media uses for women: bitch or ditz , established by Amanda Fortini in New York magazine in 2008 and echoed by Anne Kornblut in her new book, Notes From the Cracked Ceiling .
Ford's new slogan tips in that direction: "Harold Ford: nobody's man but ours." If the writer of the Times story had the same suspicions, he got his revenge on Ford by mentioning that he gets regular pedicures.
Photograph of Harold Ford by Brendan Smialowski.
---