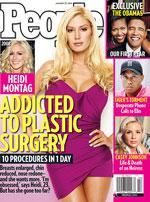 Heidi Montag seems to be taking the theme of her recently released debut album, The Superficial , very, very literally. Sources, including People magazine , report that the 23-year-old fame-succubus underwent a second round of plastic surgery in November, having 10 procedures done in one day. Among the things reportedly done or redone: new breasts (inspired by Playboy ), a chin reduction, and a nose redesign. At the end of the laundry list People hilariously asks: "But has she gone too far?"
I'm not going to pass judgment on the act of cosmetic enhancement in and of itself, but signing up for 10 procedures in one day reads to me like a clear indication Montag lacks a definitive sense of self. Which follows, I suppose, from the way her life has unfolded-she essentially lived out her teenhood on TV, came into her body in front of cameras, had a scripted romance followed by a televised marriage, and is currently one-half of the most tabloid-hungry couple in Hollywood. Now Montag is morphing herself into the real life equivalent of a latex doll and even happily publicizing her transformation. Not that surprising.
Perhaps related: Montag's vomitous new single "I'll Do it " begins thusly: ""Pick me, take me, off up into ya dungin. I brought some treats. I know that you gon love em. Come eat my panties off of me. Do whatever comes naturally." I guess if you're a person who considers physically eating underpants as simply "doing what comes naturally," then 10 plastic surgeries in 12 hours is as natural as a morning poop or something.
---