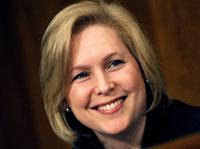 Hanna, I guess Harold Ford Jr. is attacking Kirsten Gillibrand with the ammunition at hand. But I've also been resenting his flirtation with running for her Senate seat. It seems like a rerun of the Tracy Flick trope from Election we talked so much about when Hillary and Obama faced off: Slickster guy, waltzing in to challenge the earnest hardworking girl. In Gillibrand's case the analogy doesn't entirely fit, since she got to the Senate by appointment. And yet I'm still glad that Ford buried himself with answers like these in his NYT interview this week:
Q. Have you been to Staten Island?
A. I landed there in the helicopter, so I can say yes.
and
Q. Do you commute by subway or car?
A. Normally I commute, it's easier, in the morning, because I spend time at MSNBC, generally - I don't really take the subway very often unless it's wintertime and I can't get a taxi on Fifth.
Photograph of Kirsten Gillibrand by Tim Sloan/AFP/Getty Images.
---