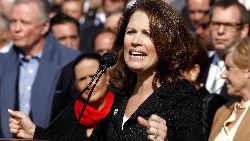 Minnesota Rep. Michele Bachmann was doing a decent job of laying down Republican talking points on a Philidephia radio show. (What did she vote for? She voted for "prosperity.") Sen. Arlen Specter, her sparring partner, felt stepped on. There are a lot of things one might think to say in such a situation; perhaps "let me speak," or "don't interrupt," or "I voted for destitution." Specter decided on: "Act like a lady." He thought this advice so apposite he gave it twice:
Specter: Now wait a minute. I'll stop and you can talk. I'll treat you like a lady. So act like one.

Bachmann: I am a lady.

A bit later:

Specter: She said 'I voted for prosperity.' Well prosperity wasn't a … a bill.

Bachmann: Well, why don't we make it a bill.

Specter: Now wait a minute, don't interrupt me. I didn't interrupt you. Act like a lady.

Bachmann: I think I am a lady.

Host: I think she is Senator.

Specter: I think she is too, that's why I'm treating her like one.
The transcription doesn't do justice to the weirdness of the exchange, since on air Specter actually sounds like Bachmann's gravelly voiced grandfather. But this dialogue brings up some interesting semantic issues. What does it mean to "act like a lady?" Apparently it means to be quiet. And what does it mean to "treat someone like a lady," as Specter insists he is doing? It would seem to mean to remind said person to "act like a lady" with some frequency. This is not a promising set of norms for political debate. Also fascinating is the way Bachmann seems to lose faith in her own lady-ness. First she says she is a lady, then she thinks she is a lady? That's the kind of confusion you get when you let women attend congressional hearings rather than finishing school. Figure it out, Michele.
Photograph of Michele Bachmann by Chip Somodevilla/Getty Images.
---