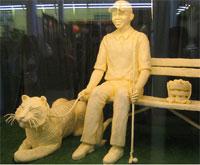 As we reflect upon the fact that Tiger Woods paid for soi-disant "trashy girl" Jamie Junger's liposuction in 2005, we might ask what the golfer has given up. What does "boring" do for a wealthy sports star, and is it worth trading for 11 willing mistresses? As a resident Iowan, I can tell you what "boring" buys here in the heartland: a butter sculpture. Here is Tiger Woods, pre-scandal, at the 2005 Iowa State Fair. Not only is he entirely constructed of low moisture, pure-cream Iowa butter, he, butter Tiger Woods, is holding onto a butter tiger. It is the highest honor this state can bestow and it is glorious.
This kind of exaltation, I promise you, is not extended to the sexually libertine. There was some talk of a butter Michael Jackson this year, but his "lifestyle" was deemed too controversial and Iowans voted the idea down . Previous butter sculptures include Harry Potter, Superman, and gymnast Shawn Johnson (with bonus butter balance beam). Had Iowans suspected that as they were sculpting butter Tiger's adorable butter nose in 2005, Woods himself was likely having ambien-fueled sex with a lingerie model, they would almost certainly have ceased production.
Look upon what you have lost, Tiger, and despair.
Photograph of butter Tiger courtesy of Kerry Howley.
---