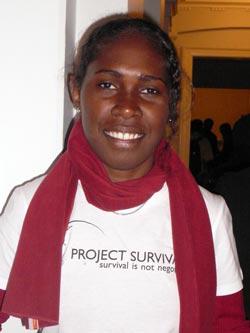 Oxfam reporter Emily Gertz talked to Christina Ora, who described the effect a changing climate is already having on the Solomon Islands:
Residents of the low-lying Reef Islands are being forced to move inland to higher ground, she says, because their croplands are being inundated by seawater, their homes battered by fiercer storms and tides, and their supply of fresh water vanishing. Moving is a complicated matter, Christina says, because it puts communities into conflict for scarce and valued resources. "Back home, land is your identity," she explains. "You are tied to that land, and your ancestors have been on that land for a long time.
Ora is in Copenhagen with a group called Project Survival Pacific , hoping to be heard by President Obama and other Western leaders. The United States is one of the top three emitters of greenhouse gasses; the Solomon Islands, she reminds Gertz, is scarcely an emitter at all. Ora has come a long way in the hope of affecting change, and President Obama isn't the only person she hopes will hear her voice and the voices of other teens who've traveled to Copenhagen. Every activist in Denmark is hoping that the world will listen. And maybe we will, too, as soon as this whole Tiger Woods thing dies down. Hey-wasn't he driving a hybrid SUV?
---