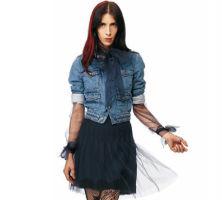 I just returned from my first trip to China, the region that makes most of our clothes, to the news that the Rodarte for Target line hits stores on the 20 th . The endeavor is, I think, an unfortunate misstep for Rodarte. Not that the nine looks are crummy, mind you. I rather like the leopard dress (No. 1; $49.99) and the see-through blue tulle blouse (No. 6; $24.99). But if you turn off your acquisitiveness for a sec and consider what Rodarte represents, their Target collection is a truly depressing move.
Rodarte is the handcrafted, mega-expensive clothing line designed by two sisters from Pasadena, Calif. Out of nowhere, Kate and Laura Mulleavy presented a half-dozen dresses in 2005. Their design vocabulary developed into distinctive, cobweb knits and lace, wavy fabric, degraded materials, and taut little bows. The self-taught designers (who still live at home with their parents in Pasadena) quickly became the darlings of New York's Fashion Week.
Rodarte is synonymous with craft, which means $3,000 to $12,000 price tags, but nobody calls the Mulleavy's elitist or out-of-touch. In the land that invented ready-to-wear and assembly-line efficiency, authenticity and happy workers seemed to be the whole meaning of Rodarte. So I can't comprehend what the sisters who are, as style.com reviews chant, "obsessed with how clothes are made-stitch by stitch, bead by bead" and "passionate-even obsessive-about the construction of their clothes…" are doing partnering with a mega-chain that manufactures in faraway factories. Obsessed with how clothes are made? Really? Then why is the promotional video set on a Dakota farmstead and not in Shenzhen?
The Rodarte for Target clothes are commodities, the products of grueling and boring shift work, not the playful craft of two curious sisters in cahoots with a team of dressmakers in California. It's unfortunate: This fall they unveiled their most transcendent collection yet. I usually don't fall for the silly narratives and inspirations offered up by designers, but narrative is a Rodarte speciality. The garments practically howled with the sadness of environmental degradation, while at the same time inspired a poetic but equally practical mend-and-make-do approach to self-fashioning.
Of all the designers who could have broken rank and worked off the subject of fashion itself-I don't mean recycling silhouettes and nodding to fashions of yore, I mean the taboos of fashion: the waste, the banality of the work-it was the Mulleavy sisters.
---