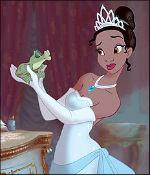 The Princess and the Frog opens nationwide on Friday. In advance of the movie, many worried about how Disney would represent Tiana as an African-American p rincess in 1920s New Orleans. (Here's DoubleX on Tiana's accent and her friends and mom .) After seeing the movie, as a cultural anthropologist, I understand those critics who argue that Tiana and her fellow African-Americans are not black enough in terms of skin color or hair texture. But aside from those physical shortcomings, I find only find positive messages about Tiana. She is a waitress working hard to achieve her deceased father's dream of owning a family restaurant, "Tiana's Place." She is kind, beautiful, loving, brave, and humble. Her one fault in the movie is that she is too driven; she doesn't take enough time for love or for fun (certainly not the African-American media stereotype).
Not surprisingly, the positive portrayal is also the case with all of Disney's recent princesses: Ariel, Jasmine, Belle, Pocahontas, and Mulan. What sets Tiana apart, unfortunately, is that she spends most of the movie as a frog. This doesn't necessarily send a bad message to children, but it is a shame that they miss out on the opportunity to see this strength of her character fully realized in an African-American body. Perhaps if parents decide to buy their kids a Tiana doll for the holidays, they can make sure to buy the human version.
In another way, Tiana stands apart form some other Disney girls and women. She is not overly sexualized, as Ariel, Pocahontas, and Jasmine have been. She doesn't use her body or her looks to get what she wants. However, there is one moment in the film that I would want to process with both my 6-year-old daughter and my 4-year-old son. When Prince Naveen, as a frog, is trying to persuade Tiana to kiss him, she is repulsed by the idea. Since she was a child, she had declared that she would never kiss a frog, even to become a princess. But then Prince Naveen mentions that his family is rich and that he could reward her with a lot of money. Upon hearing this and thinking of finally getting the restaurant she wants, she is coerced into kissing him. What is especially problematic here is that the frog promises money as a reward for what is essentially a sexual act, and Tiana gives in. Were I watching this movie with my children, I might ask them whether it seems right to kiss someone for money. And I might begin a discussion of why two people might want to kiss each other.
Another jumping off point for examination: Is Tiana represented as similar or different to others in her ethnic group? Jasmine, for example, from Aladdin , is kind and caring while others in her land of Agraba are presented as barbaric and cruel. In addition, she has lighter skin and, unlike the others, speaks in standard American English. The contrast may give some children the impression that typical Middle Easterners are bad. How can parents counter these messages, especially when they may not even know much about Middle Eastern cultures? Sit down at the computer and do an Internet search on Middle Eastern histories and cultures. Parents and children learning together like this will not only counter the stereotypes, but will also teach children to be curious and to not believe everything they see on the big screen.
Considering other characters in The Princess and the Frog , the white folks stand out as ridiculous. The La Bouff family is greedy and selfish while the frog hunters are buffoonish, beating on one another as they try to kill the frogs. Before you applaud the poetic justice in this turnaround, notice that only the very rich and the very poor are ridiculed here. Pointing this out to children can prompt a discussion about money and social class differences. Overall, a pretty good set of lessons for parents to initiate from a movie.
Still from The Princess and the Frog © Disney Enterprises
---