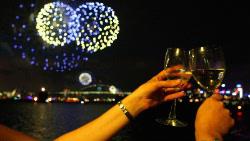 DoubleX is starting a new partnership with The Washington Post Magazine . Each week our contributors will argue over a certain question, and we invite you to join in. This week: Research shows 80 percent of New Year's resolutions are broken by Valentine's Day.
Do you make a resolution each year, and have you ever actually kept one successfully?
Hanna Rosin : I used to have no hope for resolutions. But I recently took a pledge to complain less often , or less obnoxiously, for a whole month. Two months later, I am still less whiny and irritable than I used to be. So I have newfound hope that resolutions can work. Maybe for New Year's I'll get really ambitious and try for cheery.
Ellen Tarlin : I think the word "resolution" and resolutions on the whole are too stringent. I sometimes set "goals" for the year, which suggests a little more room and fluctuation about whether they are successful or not. But if I make a resolution, it's usually something ridiculous like "I am going to exercise every day in 2010!" – which means it is usually broken on Jan. 1 or Jan. 2.
Laura Moser : I make resolutions every year; I even write them down. I love formal gestures of self-improvement so much that I'll sometimes throw in a few extra goals on Chinese New Year and Rosh Hashanah. The key for me is to keep the bar really low, the better to avoid disappointment. So instead of "I will save enough for a down payment," I stick with "I will never exceed $5K of credit-card debt." Forget about finishing the novel that has been moldering on my hard drive since the Clinton administration; I'll be happy if I can print out that short story I started writing after Hurricane Katrina. In 2010, a friend and I will be reading all 201 Chekhov stories in order-anyone care to join us?
KJ Dell'Antonia : I actually adore making resolutions. Christmas and birthdays tend, for me, to involve dwelling on time passing and things that will never be the same again, so I love both September and January as opportunities for these grand new starts that I never get tired of making – a chance to look forward, not back. I tend towards the career and organization-type resolution, and since those are things I actually enjoy, what I'm really doing is giving myself permission to work harder at something that's important to me. Besides my next-step career plans, I'll be repeating an annual resolution to organize the whole house, top-to-bottom, and probably buying a shiny new notebook to record my progress (I like making lists and crossing things off). Last year I got as far as the kitchen–which, since I started in the kitchen, wasn't very far, but the kitchen remains organized. Tangible proof that it's worth it.
Amanda Marcotte : The only thing I resolve to do is lose a couple of pounds, and the only time I do so is when I put on jeans out of the dryer. In the distant past, I think I tried making New Year's resolutions, but learning that most of them are broken immediately pushed me to quit doing so. Who am I to think I could do better than 80 percent of Americans? There's no compelling evidence to suggest I could.
Rachael Larrimore : If you ask me, Jan. 1 is a terrible time for resolution-keeping, at least for some of the most popular resolutions. Eating better? It's the middle of winter. The selection of fresh produce is meager to the point of being depressing. Exercise more? It's cold and dreary and it's dark about 16 hours a day. Exercising outdoors is impossible, and it's even hard to drag oneself out of bed to get to the gym when it 7 a.m. looks like the middle of the night. Quit smoking? What, when you're stressed about paying off all those Christmas bills and you just found out your company is skipping raises? Why don't we set resolutions in the spring, when the world is fresh and new and full of hope?
Lauren Bans : My New Year's resolutions are always the same and always sufficiently vague to keep me from ever really taking them too seriously– exercise more, pitch more, call my grandma more.
Photograph of revelers in Sydney by Ryan Pierse/Getty Images.
---