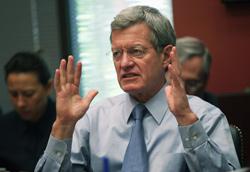 Sen. Max Baucus has admitted to being involved with Melodee Hanes, his former state director and senior counsel. The relationship was made public because Baucus had nominated Hanes for the position of U.S. attorney in Montana. Politico has a juicy headline about the pair, " Max Baucus gave girlfriend 14K raise ," but then buried deep on the second page of the story the authors mention, "the raise was on a par with the legislative director's and less than the chief of staff's." Both Baucus and Hanes were recently separated or divorced by the time they began the relationship, and despite the flashy ledes, the only major mistake the pair seem to have made was not disclosing the union earlier on.
However, it does raise the Letterman conundrum once again. If you'll recall, back in October, Nell Scovell, a former writer on The Late Show wrote for Vanity Fair 's website:
Was I aware of rumors that Dave was having sexual relationships with female staffers? Yes. Was I aware that other high-level male employees were having sexual relationships with female staffers? Yes. Did these female staffers have access to information and wield power disproportionate to their job titles? Yes. Did that create a hostile work environment? Yes. Did I believe these female staffers were benefiting professionally from their personal relationships? Yes. Did that make me feel demeaned? Completely. Did I say anything at the time? Sadly, no.
There's no concrete evidence yet that Baucus's other staffers felt like Scovell did-that the senator's relationship with Hanes created a hostile work environment. However, it's worth mentioning here that Baucus was sued by his former chief of staff Christine Niedermeyer for making unwanted sexual advances (he says he fired her because she was abusive to the rest of the staff), but the case was thrown out. Again, since Baucus was already separated when the relationship with Hanes began, he doesn't reach cad status … but if more negative information on his workplace behavior emerges, he may make the 2010 list.
Photo of Senate Finance Chairman Max Baucus by John Moore/Getty Images.
---