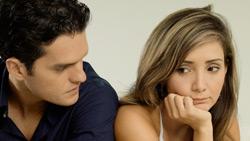 As Hanna has already pointed out , this Sunday's New York Times Magazine deals with the issue of marriage counseling (and marriage in general). The author, Elizabeth Weil, decided that although her marriage was fine, it could be better. She thought she and her husband should pay their marriage the same kind of attention they paid their careers, their kids, their health, and their friendships. "I decided to apply myself to my marriage," Weil writes, "to work at improving ours now, while it felt strong."
The way she did this, she tells us, was by working her way through the books and the assessment tests into the therapist's office. Off the couple went to a "reed-thin psychoanalyst" who was given to pronouncements like, "On the first count, you find Dan unavailable because he's not relating to you. He's just using you as a sounding board. But on the other hand he feels he can't reach you either. He wants you to accept his affection and praise, but those attentions make you feel smothered, and that makes him feel alone."
It's hard to tell at the end of the piece what Weil and her husband gained from their efforts. It's impossible to know what goes on inside anyone else's marriage at any time or why two people choose to marry in the first place. Yet while her story isn't as riveting as some of the better episodes of In Treatment or Tell Me You Love Me , it piqued my interest because I'd like to know how many of you have tried marriage or couples counseling in any form. Did you go-like Weil-to strengthen an already strong union? Or did a crisis force you to seek help? How did you agree on this course of action? What form did your sessions take? How much did they cost? And the most important question of all, what did you gain from going?
Send me your stories at emma@thecomebackbook.com and I'll run them.
Photograph of unhappy couple by Getty Creative Images.
---