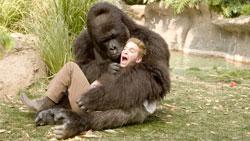 Desperate to get out of the house yet? Looking for an activity that the whole family can enjoy, without–and this is key–actually talking to each other? Ah, yes, the Saturday of Thanksgiving weekend. If you're not on an airplane, you're probably at the movies. It's a big time for kids' movies–The Fantastic Mr. Fox, A Christmas Carol, Where the Wild Things Are, Astroboy–but there's another gap movie makers like to fill this time of year. Call it the all-ages adult comedy. 2007 brought us Fred Claus and Enchanted; last year: Four Christmases. In other words, it's tough to do well. The hope, of course, is to create something that a fifteen-year-old can watch with his grandmother, with just enough raunch for both to feel cool, but not enough that either feels the need to crawl under his or her sticky seat.
And so, flipping down the list of mulitplex offerings this year, it's quite possible that your fingers will linger over "Old Dogs." Robin Williams–well, he used to be funny, and every time he bats another one we all hope he'll somehow hit this one out of the park. And John Travolta–Pulp Fiction! Get Shorty! And it's Disney–surely this is family friendly fun. But we took a small office poll here, and couldn't find a single person who, having once seen Seth Green snuggled in the arms of a gorilla during the trailer, was willing to sit though the entire movie (and remember, I made it through Imagine That and Mr. Troop Mom ). So although we cannot actually offer you a review of Old Dogs, we can state with confidence that we've seen the moments this film's creators thought put its very best foot forward (in fact, we've seen them more than once) and we decided to stay home. Our best advice would be that you do the same.
Still from Old Dogs . © 2009 Walt Disney Pictures. All rights reserved.
---