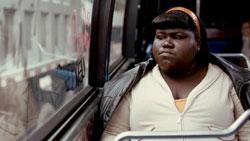 In the new movie Precious , Clareece Precious Jones is beaten by her mother and raped so often by her father that she's pregnant with his second child. She's also illiterate.
I've spent the past three years profiling illiterate young adults, and I decided to take two of them to a preview screening . Yamilka and her brother, Alejandro, now 26 and 24, are Dominican immigrants. They'd gotten all the way to high school without learning to read. After a hearing officer ruled in 2005 that New York City had violated a federal law that's supposed to protect them because they are students with disabilities, the siblings received a combined total of more than $250,000 in private tutoring.
Yamilka and Alejandro expected the movie to get the Hollywood treatment. And they were fine with some of that, so long as they found it generally believable. Yamilka-who was overweight and self-conscious in school-related to the way Precious sat in the back of her class in junior high. "I didn't want people to notice me, to notice something was wrong." When she saw Precious guessing her way through a multiple choice test, Yamilka said she had done the same thing.
Alejandro, who is dyslexic, identified a little with how Precious would slip into fantasy sequences of herself starring in a music video, or walking the red carpet. He spent more than a few classes imagining that he was flying a plane. "When you don't have a lot of friends in school, you can do that, go somewhere else," he joked.
But my two critics said the movie lost them once Precious transferred to an alternative school. There she magically goes from learning the alphabet to writing in a journal with the encouragement of her teacher, the beautiful and supportive Ms. Rain. Yamilka called it "crazy impossible." Alejandro remembered the hours he spent in private tutoring, learning the sounds of the letters and eventually blending them into words. In two-and-a-half years, he progressed from a kindergarten to a 9 th grade reading level. Precious got to an 8 th grade level within a year and was ready to take her GED.
Precious is based on the novel Push , by the writer Sapphire. She taught illiterate adults how to read during the 1980s and '90s. I interviewed Sapphire for WNYC and told her what Yamilka and Alejandro thought about the film. She acknowledged that it's not a real portrayal of what really went on in her classrooms. And she conceded that she never taught students with learning disabilties. But, she added,"I've never seen a film that is watchable that actually details the process of learning to read." That's why she said the filmmakers focused on the alternative school where Precious and the other students trusted one another and their teacher.
Yamilka and Alejandro each related to that. (Listen to them in this radio segment ; here's my original piece from 2006 about Yamilka.) "I think the learning is more easy when you have a relationship with your teacher," said Yamilka, who bonded with her tutors. But in the end, Alejandro said, "It's about freaking giving the kid what they need." That's why they both want people to know that learning to read is much harder than it appears in Precious .
Alejandro has his own ideas for a movie. He wants to see a superhero who's illiterate. It would be a secret, of couse, disguised by his extraordinary powers. Alejandro's ready if Hollywood calls.
Still from Precious © 2009 Lee Daniels Entertainment. All rights reserved.
---