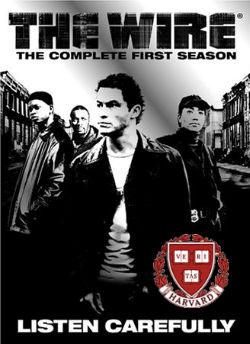 HBO's critically acclaimed show about the gritty, druggy streets of Baltimore just received some lofty Ivy League accolades. Next year, Harvard University is planning to offer a class on The Wire , which, according to Harvard professor William J. Wilson, "has done more to enhance our understanding of the systemic urban inequality that constrains the lives of the poor than any published study."
I imagine some parents balking at the idea of shelling out $40,000 a year to fund a semester of TV-watching, but I'm all for televisual learning, especially when it comes to The Wire . Specifically because the show seems deliberately set up to be as much urban poverty screed as it is entertainment: It offers a broad, realistic view of urban detriment without turning the dark underbelly of Body-more, Murdaland into your everyday, sensationalist crime porn (ahem, CSI , Law & Order ). The criminal characters are as complex as any of the detectives, and more often than not the real perp is the larger system that sucks up the poor and spews them out as ground-level pawns in an impossible-to-climb crime pyramid. The good guys, too, are imperfect; McNulty is essentially a human metaphor for pyrrhic victory, simultaneously drowning himself in whiskey as he wins battles against the infinite criminal network.
The Crimson article announcing the new course also points out that Sonja Sohn, the actress who plays Kima on the show, has set up a nonprofit organization called ReWired for Change intended to educate and offer options to underprivileged Baltimore youth. This fact gets at what is probably the show's greatest success-and definitely a reason why it's worth studying-it has intentionally, and with impressive finesse, pushed urban poverty, an issue that no one could bother themselves to be concerned about five years ago, back into the limelight.
---