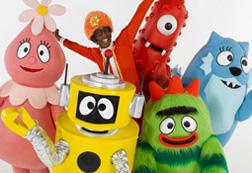 If you have a young child— or even if you don't —you know that Sesame Street is currently celebrating its 40th anniversary. Weeks of gushing coverage of the preschool staple culminated last Tuesday with the airing of a much-hyped anniversary episode, featuring appearances by Cameron Diaz and Michelle Obama. But lost in the cascade of praise for the venerable show is the fact that Sesame Street, though still useful and at times charming, is no longer the most engaging television show geared toward preschoolers. That distinction now belongs to Nick Jr.'s Yo Gabba Gabba!
Currently winding down its second season, Yo Gabba Gabba! has garnered critical   acclaim and quickly established itself as one of the most popular series in children's programming (according to Nielsen, the show is currently averaging more than 500,000 viewers). Like Sesame Street, Yo Gabba Gabba! employs a combination of live action and animated features to instill in preschoolers a certain set of values:brush your teeth, be kind to others, etc. But the similarities end there.
Yo Gabba Gabba! is hip, edgy, and current—it's the show for preschoolers whose parents aren't quite ready to accept that their days of going to rock and hip-hop shows are behind them. Its educational songs—compositions with titles like "It's OK; Try Again" and "No One Likes To Be Left Out"—are performed by bands like the Shins, the Ting Tings, and Ladytron. Its frequent Dancey Dance segment, which teaches preschoolers a new dance move, is hosted by guest stars like Elijah Wood, Amare Stoudemire, and Tony Hawk. So successful have creators Scott Schultz and Christian Jacobs been in establishing a cool brand that Yo Gabba Gabba! now has regular adult viewers who tune in without preschoolers. Many of them don't even have children.
Yo Gabba Gabba!'s hipster bona fides have drawn considerable attention, and they've certainly contributed to its popularity. But I've learned that there's more to the show than its cool cameos. I came to Yo Gabba Gabba! as a decidedly unhip father looking for a respite from Telly, Oscar, Bert, and Ernie. And my 22-month-old son, Marlowe, doesn't know the Shins from a hole in the ground. But from the first episode we watched together, I knew I had discovered a program unlike any other, one that kept Marlowe fully engaged and surprisingly active from beginning to end.
At the center of Yo Gabba Gabba! is DJ Lance Rock who, like any good DJ, endeavors to keep the party jumping. I have yet to see him fail. As though extracted from a Run DMC video, DJ Lance wears a bright orange jump suit, an orange, furry toboggan, and oversized black glasses (think Larry's father on Curb Your Enthusiasm). At the beginning of each episode, the lanky DJ ambles toward Gabbaland carrying a multicolored boombox. He opens it to reveal miniatures of the show's five main characters: a rubbery Cyclops, a robot, an oversized blue cat, and two fanciful creatures—one pink and plump; the other furry, green-striped, and unibrowed. Lance places the characters into Gabbaland, breathing life into them one by one. The characters break into dance as they are introduced, and from there each episode is a nonstop extravaganza of kinetic energy as preschoolers learn the lessons of the day from a series of short and lively songs and dances.
DJ  Lance speaks in an exaggeratedly slow, sing-songy manner that appeals to youngsters still developing their aural abilities, and he moves in a manner that is both inviting and humorous without being buffoonish. He manages to put preschoolers at ease even as he nudges them off the couch and into motion. He closes each 24-minute episode with a review of what has happened in Gabbaland that day, followed by free-form dance party incorporating snippets of earlier scenes.
A commitment to encouraging movement is a primary theme of the show, one that both Marlowe and I appreciate. My favorite regular segment is I Like To Dance, in which one or two preschoolers introduce themselves, declare "I like to dance," and then bust their best moves. As basic as it might sound, the segment is valuable because it encourages preschoolers to develop the creativity to compose their own dances and, as important, to have the confidence to be willing to show them off. Marlowe now regularly struts his stuff during I Like To Dance segments. Watching Sesame Street, by contrast, is almost always a sedentary, subdued activity; the anniversary episode last week, for example, left both father and son bored and uninterested.
I Like To Dance is just one of many Yo Gabba Gabba! segments that invites Marlowe's active participation. Cool Tricks, a segment in which a child displays his or her talent (tae kwon do, gymnastics, "dancing and turning"), exposes him to the unfamiliar in a fun, quirky way. Marlowe has begun trying out some of these Cool Tricks, most recently attempting to play a toy recorder with his nose, to his and my delight. In Biz's Beat of the Day, rapper and DJ Biz Markie beatboxes a short pattern for kids to practice performing, and though he was initially sheepish, Marlowe now tries to match Biz's beat and rhythm. He's getting good.
I should confess that though the musical acts for which Yo Gabba Gabba! is known were not what first attracted me to the show, the music has enhanced my viewing experience, and for reasons having little to do with my son's reaction. In an episode called "Family"—included on the recent Yo Gabba Gabba! DVD release—the Roots performed a light and sweet ditty called "Lovely, Love My Family." As a hip-hop fan who has seen the genre take its lumps for its explicit lyrics and negative imagery, I was heartened to see one of hip hop's most respected groups joyously singing a song about the importance loving and appreciating one's family. It was also a thrill to expose my son to a thoughtful but hard-knock group he might not otherwise have been ready for until his teens. The simple wholesomeness of "Lovely, Love My Family" is commonplace on Yo Gabba Gabba!, but in combining it with hip hop acts and sensibilities—from the Roots' performance, to Biz's beatboxing, to DJ Lance's style and swagger—Yo Gabba Gabba! is breaking ground in both television and in hip-hop. 
So while Marlowe won't learn that cookie starts with "c," or the many interesting things about the number 6, from Yo Gabba Gabba!, for my money it's the best thing going on children's television. There will be time for learning how to read and count down the road, and he's already getting a steady diet of letters and numbers from the reading we do with him each day. For now, when it comes time to watch some TV, I'll take wholesome, energetic, and engaging—with a hip-hop beat.
---