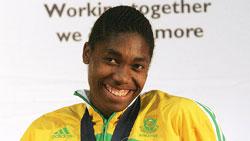 Ariel Levy's wonderful piece in The New Yorker raises the essential question about South African runner Caster Semenya, and then an even deeper essential question. Testosterone-which Semenya seems to have in excess quantities-is powerful stuff for an athlete. Maybe it's not actually fair that she compete as a woman. Maybe it does make some kind of sense to divide athletes not into male and female, but into higher and lower level of testosterone, or some other measure of physical and chemical attributes that results in an even match. However:
There is much more at stake in organizing sports by gender than just making things fair. If we were to admit that at some level we don't know the difference between men and women, we might start to wonder about the way we've organized our entire world. Who gets to use what bathroom? Who is allowed to get married? (Currently, the United States government recognizes the marriage of a woman to a female-to-male transsexual who has had a double mastectomy and takes testosterone tablets but still has a vagina, but not to a woman who hasn't done those things.) We depend on gender to make sense of sexuality, society, and ourselves. We do not wish to see it dissolve.
Photograph of Caster Semenya by Paballo Thekiso/AFP/Getty Images.
---