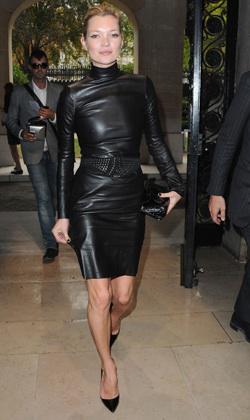 Blunder-prone waif Kate Moss recently told WWD that she lives by the slogan "nothing tastes as good as being thin feels." Unsurprisingly, her statement was immediately denounced by eating disorder prevention groups , who made the fair point that the very same motto was the reigning philosophy on pro-ana websites. While the shared choice of words is rather unfortunate, I found Moss's bluntness refreshing, like a mid-afternoon Fresca. Because the other side of the coin is far more irritating-the celebrities who talk about how they eat and eat and eat, but apparently never gain an ounce.
A few years ago, Grey's Anatomy star Ellen Pompeo, who often looks more like a sickly patient than an ER doctor at a reported 5'7" and 97 pounds, told Self magazine that she eats 3,000 calories a day just to maintain her weight . And in more recent news, January Jones apparently lives for Chili's queso , and Megan Fox only leaves her house only for KFC . I mean, really ? How many 14-piece fried chicken buckets can Megan Fox actually be downing? I'd rather have Moss admit, however crassly, that she monitors her weight to an extreme, because it's a sad fact that sickly thin still sells, rather than listen to size zero celebs enthuse about their junk-food habits like they exist in a magical La La Land wherein calories dissipate the moment food touches their tongue.
Moss can have her philosophy, and we common plebes ours-buffalo wings and cookie dough taste much better than being grotesquely thin feels.
---