This week, I finished the audiobook for The Happiness Project . As I'd expected, it made me very happy to learn to do something new and to get a glimpse into the unfamiliar world of sound recording.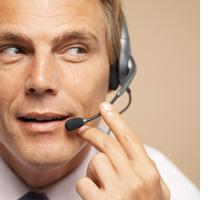 It was also thrilling to learn that none other than Jim Dale had sat in the very same seat that I was using, when he was recording Harry Potter and the Deathly Hallows . It took him three weeks! And they had top, top security.
What surprised me most about the recording process was how emotional I became while reading certain parts of the book. I literally choked up and had to take a drink of water and a deep breath before I could continue (quite embarrassing).
At first, it surprised me that I could go so worked up about something I myself wrote, but then I realized why this made sense. It's not that the book is sad, but rather that it touches to my heart so closely.
For example, as I was reading the very first page, I got a catch in my voice when I read the concluding paragraphs in the "Note to the Reader":
I would never have supposed that a witty lexicographer with Tourette syndrome, a twenty-something tubercular saint, a hypocritical Russian novelist, and one of the Founding Fathers would be my most helpful guides—but so it happened.
I hope that reading the account of my happiness project will encourage you to start your own. Whenever you read this, and wherever you are, you are in the right place to begin.
Also, I got teary when I read this part:
I said to him, "Someday, we'll look back, and it will be hard to remember that we ever had such little kids. We'll say, 'Remember when Eleanor still used her purple sippy cup, or when Eliza wore ruby slippers all the time?'"
He squeezed my hand. "We'll say, 'That was such a happy time.'"
The days are long, but the years are short .
I really lost it when I read the book's final paragraph:
The year is over, and I really am happier. After all my research, I found out what I knew all along: I could change my life without changing my life. When I made the effort to reach out for them, I found that the ruby slippers had been on my feet all along; the blue bird was singing outside my kitchen window.
These passages may not be moving, taken out of context, but in the book they are – well, at least to me! That's one of the many ways that the book and blog differ – it's harder to tell an affecting story on a blog. The format is just different. Also, on the blog I need to keep discussion very short, but in the book, I can expand stories and analysis. (I think I did manage to convey emotion in the little video, The Years Are Short , but that has music, photos, the works.)
* I always find a lot of interesting material to read when I visit Daniel Pink . I cannot WAIT to read his new book, Drive: the Surprising Truth About What Motivates Us . Just my kind of thing.
* I send out short monthly newsletters that highlight the best of the previous month's posts to about 28,000 subscribers. If you'd like to sign up, click here or email me at grubin, then the "at" sign, then gretchenrubin dot com . (sorry about that weird format – trying to to thwart spammers.) Just write "newsletter" in the subject line. It's free.
---