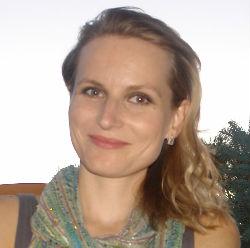 Noel Carmichael was laying flat in a hospital in Tanzania after emergency life-saving surgery, trying to remember why she thought that moving to sub-Saharan Africa was a good idea in the first place. She was in pain, but unable to reach the nurses because-for reasons she'll never understand-the emergency bell was mysteriously placed on the wall behind her, well out of reach from the bed. She had a fresh, nine-inch scar down the middle of her stomach and couldn't move enough to sit up, let alone reach the button. Even if she could reach the nurses, all they could give her is a type of Tylenol, since hospitals didn't carry narcotics. Occasionally, nurses would stop by to prick her in the butt with something and couldn't explain what it was. They weren't using gloves. Her IVs ran out regularly and formed painful bubbles in her veins. She found herself stuck between the Swahili-speaking nurses and the English-speaking doctor, who didn't understand each other. She had to throw up into the same waste basket where the nurses put used syringes. Experiencing all of this in a private hospital gave her a whole new understanding of what public hospital care in Tanzania must be like.
"Receiving a cancer diagnosis in the U.S. wasn't anywhere as scary as having this surgery here," she says.
Two years ago, when she was 25 and living in New York, Noel was diagnosed with ovarian cancer. As soon as she recovered from surgery, she felt what many a cancer survivor, myself included, have felt-an urgent need to start a brand new life, do things differently, give back to the world for allowing her live.
When I asked her why she was drawn to Africa, arguably not a relaxing, healing place, she said she just happened to have met a woman who started a foundation, Industrial Revelation, to help distribute food to malnourished children in Africa.
"She asked if I wanted to move to Tanzania and figure out how to start a company there. I said, 'sure'," said Noel. But Africa also sounded good because it meant going back to basics. She fantasized about living a stress-free life and eating food without additives, tons of fresh fruits, and meat without antibiotics. But mainly, she said, "When you get cancer, you want to do something like go to Africa."
It was hardly a coincidence, if not outright cliché, that we met in Africa, then.
In April, just after my two-year "cancerversary," I watched the movie The Express . It's about Ernie Davis, a talented football player who died of leukemia at the age of 23. I had been religiously avoiding movies where anyone dies of a horrible disease since I was diagnosed with colon cancer three years ago, at the age of 29. Occasionally, though, I can't help myself. I figured by the time I can watch a movie all the way to the death of the protagonist and not break down, I'd finally be over cancer. At the end of the movie, as I lay on a couch, I curled up in a ball and cried hysterically. It was painfully clear that I wasn't even close.
Two months later, my friend Jeff died of cancer, just shy of his 33rd birthday. That only convinced me that the only way to live life was to live it now, because once you get the news that you only have two weeks left to live-like Jeff did-it's too late to start.
Which is, in a nutshell, how I ended up in Tanzania, my first stop on a journey around the world in an attempt to make the world make sense, going out of my way to write about all things "not cancer." I'd heard about Industrial Revelation and that they are hoping to bring a local production of PlumpyNut, the energy-dense food for severely malnourished children, to Tanzania, and wanted to find out how it was going.
Noel spoke passionately about the project and life in Africa. She's learned Swahili. She wore a traditional kanga and was dating a Tanzanian. She has done her best to "go local." Which is, in part, what might have gotten her to the exact place where I found her: laying in bed under rolled up mosquito netting, in her friend' apartment in Dar es Salaam, thin and frightened, recovering from surgery. Three weeks after surgery, she was still waking up in the middle of the night with nightmares about hospital staff with machine guns trying to kill her. She told me her story, I told her mine. There we were, in the middle of Africa, getting away from cancer, and cancer always getting in the way.
Earlier this fall, Noel decided to do what everyone around her was doing, fast for Ramadan. She thought it was apropos for her to go through the experience since she worked with starving children. What she hoped to be a cleansing ritual turned out to be every nutritionist's nightmare. People didn't eat all day and once they were allowed to have a snack after sundown, they ate "hatari," chips and other greasy snacks to avoid eating a "real meal," which is not allowed. Two weeks into Ramadan, Noel stopped being able to digest. She was vomiting and in excruciating pain. Having had food poisoning several times since moving to Tanzania, she knew this was different and went to the hospital.
The surgeon-on-duty ordered a CT scan and said she had to have surgery immediately. Her intestines have become twisted and nothing was moving through. "With that kind of bowel obstruction, you have 24 hours," she was told.
She worked up the strength to call her mom back home to tell her she had to have surgery in a country that ranks in the bottom 10 percent on the Human Development Index and tried to calm her down as she kept envisioning what people are going to say when she dies here, that she went to Africa and died there, and that will be that.
She had good private health insurance in Tanzania and thought that, should anything serious happen to her, she would fly to South Africa, India, or-if time permitted-home to New York for treatment. She didn't expect that wouldn't have time to fly anywhere.
The surgery took four hours and they found she had multiple adhesions, connecting bowel to bowel and bowel to abdominal wall and bladder. One section of her small intestine had been pulled so much by an adhesion that it had squeezed it closed and twisted around itself. Her fasting experience for Ramadan didn't cause her problem, it just aggravated it. Adhesions are quite a common side effect for patients who had previous abdominal surgery-in her case, when they took out her ovary two years earlier in the United States.
But "going local" in Africa certainly didn't help.
"I'd had never eaten so poorly in my entire life," she says about her lifestyle in Tanzania, where people love fried, fatty foods just as much as Americans do. "I realize how ironic it all is since I came here to help people with nutrition."
---