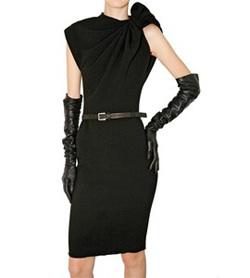 As you may have read in yesterday's New York Times , there's a new online frock rental business called Rent the Runway that applies the mail-based Netflix business model to high-fashion clothing (it already exists for accessories at bagborroworsteal.com ). Renttherunway.com works like this: You pay anywhere from $50 to $200 for temporary custodianship of an expensive designer frock (no, not actual haute couture, ladies, but there will be exclusives that aren't available in stores). A pouch containing the dress-actually two, to ensure fit-arrives. You keep the frock(s) for four days and mail them back in the same pouch they arrived in.
I immediately rolled my eyes. With $200, one can buy a cache of vintage or designer resale. Why don't women just shop for what they can afford, seek out great vintage and resale if they crave labels or glitz, and quit the label worshipping? Or, if you can't resist new merch, then just do what naughty girls have been doing forever: Shop, charge, wear, return.
But then, well, what woman hasn't dreamed of walking down the street in a clingy Alaïa knit or prim Lanvin sheath? Or showing up to a party or important event looking well-heeled and chic? (Not that designer labels are the only way, but a great designer frock certainly makes it easier.) And is it even relevant to expect women to match their acquisitiveness and frock desire to specific brands or price points anymore? The whole matching of one's socio-economic bracket to a clutch of brands ended in the 1990s. And as far as my vintage-resale argument goes, lets face it: Most women don't have the time or inclination for the secondhand marketplace, which may not require an abundance of cash, but it does require an abundance of another luxury: free time.
So I signed up. I'm awaiting my membership, which is currently limited due to trial phase stock levels. If Rent the Runway carries Alaïa-and oh God, I really hope they do-I'll be stalking my postman sometime soon.
---