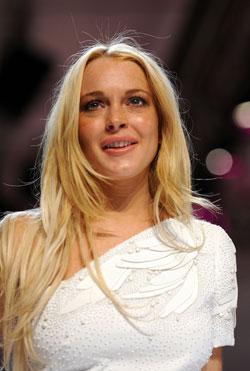 Lindsay Lohan launched her debut collection as artistic director of Ungaro on Sunday. As soon as the last model existed the runway, snobby editors stormed out the door. Lohan was in tears. That the clothes would be widely panned was no surprise, of course. WWD called the collection "an embarrassment," "cheesy and dated" with an "overworked" heart motif. Style.com said the show quickly "devolved into a bad joke of a fashion show, one with questionable color combinations, 'bad eighties' draped silk jackets and drop-crotch pants, old-fashioned and ill-judged fur stoles, and, yes, tasteless sequin pasties."
The looks were inelegant, off-trend, and styled with about as much je ne sais quois as a drunk teen let loose inside a Forever 21. But you know what? I loved this fashion show, and I think that it was a genius move-promotional and otherwise-by Ungaro CEO Mounir Moufarrige. The press has been covering L'Affaire Lohan as a desperate and misguided attempt to import a crass marketing ploy of the American department store-the celebrity designer-to the hallowed Paris runway.
But what if we choose to see Lohan not as a celebrity designer but simply as a young woman who has taken on the task of making clothes that she adores with the help of a designer (that would be chief Ungaro designer, Estrella Archs) and an atelier full of skilled dressmakers eager to take her direction? Seen this way, we are reminded that fashion need not be the province of professional designers. It can be made collaboratively between women who have their own aesthetic sensibilities and others who possess the technical skills to translate the looks from idea to reality. "I feel like it's pretty much a fairytale," Lohan told People . "It's certainly more than I could have ever imagined, more than I'd ever hoped for. I couldn't be happier. Seeing everything pulled together, is simply amazing."
Before fashion was controlled by fashion dictators-designers who invent seasonal looks for women without regards for what women actually want or whether women want anything new at all-women used to collaborate with skilled dressmakers. Other than used clothes or homespun frocks, this was the extent of fashion. Back then-that is, before the 1860s-women got all the credit for their looks too, which meant fervent compliments or gut-wrenching ridicule, but their self-cultivated appearance had nothing to do with designers or labels or brands and everything to do with what went on privately between a woman and her dressmaker. Like Lohan, we could walk into a dressmaking establishment and play artistic director, or as WWD sees it, we could be "a nonskilled judge with theoretical veto power hovering about." Well, that's all fashion meant to women for centuries until Charles Frederick Worth opened the first designer shop and declared, "I don't want people to invent for themselves; if they did, I should loose half my trade." Fashion week celebrates this idea: the idea of women not inventing for themselves.
What would it be like if women could do what Lohan did and invent? Probably many of us would be overwhelmed or simply uninterested. But throngs might also welcome the shift. According to the New York Times , Lohan loved the experience: "'This is just so cool,' Ms. Lohan said, turning her attention to a white minidress splattered with sequins. 'It needs more rhinestones, just so it pops.' Off to the seamstress it went." This sounds a lot more fun and interesting than shopping.
So what if the fashion press was "aghast" at Lohan's aesthetic? I think it's great that a nondesigner got to work with a team of skilled French dressmakers. Although the looks are cheesy, at least the 45-year-old house of Ungaro is shaking up the boring runway establishment. Moufarrige is onto something.
Join the conversation. Follow DoubleX on Twitter .
Photograph of Lindsay Lohan by Pascal Le Segretain/Getty Images.
---