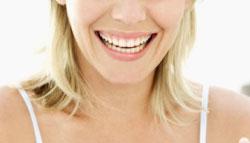 In my review of Barbara Ehrenreich's anti-positivity jeremiad Bright-Sided , I mention being bullied into smiling as a kid. "No one's ever asked me to smile," a dear male friend commented upon reading the piece. Well, no kidding. For reasons I cannot fathom Ehrenreich never mentions gender, but women are humanity's traditional ambassadors of perkiness. Men wear solemnity like they wear gray. It's dignified.
I'd suspect that this were all in my head were it not a relatively persistent theme in American literature. I'm thinking of Dorothy Parker's short story "Big Blonde," in which Hazel Morse is driven to a suicide attempt by her suitors' insistence that she be a "good sport" and "snap out of it." There's Lorrie Moore's story "You're Ugly Too," in which the protagonist says of her Midwestern town, "You weren't supposed to be critical or complain… You were never supposed to say you weren't 'fine thank you-and yourself?'… you were supposed to be Heidi … all men, deep down, wanted Heidi." And though this example isn't gendered, I think also of Joan Didion's wonderful "Many Mansions." Describing her "favorite house in the world," she writes:
The bedrooms are big and private and high-ceilinged and they do not open on the swimming pool and one can imagine reading in one of them, or writing a book, or closing the door and crying until dinner.
There is something dark and horrid about a house without corners to cry in, which-exaggeratedly, no doubt-is the world Ehrenreich describes as our own.
What else, commenters? Help some struggling English Ph.D. student write a thesis.
Portrait of a young woman smiling by Stockbyte/Getty Images.
---