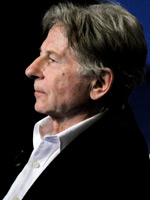 When Roman Polanski was arrested late last month, I thought the press surrounding the incident would last a few days at most. After all, Polanksi's crimes had already been rehashed several times in the past year, first with the release of the mostly pro-Polanski documentary Roman Polanski: Wanted and Desired , in 2008, and then subsequently with Polanski's attempts to get the case against him dismissed that were filed by lawyers in the first half of 2009 .
But the story has threads of so many sensational issues-rape, celebrity, privilege, art, American attitudes towards Europeans-that almost two weeks after the director's arrest in Switzerland, there are still daily headlines, and the people who publicly support Polanski have been dragged into the morass themselves. First there's the culture minister of France, Frédéric Mitterrand, who is being lambasted for a memoir he wrote in 2005, in which he admitted to paying for sex with Thai "boys."
In The Bad Life , Mitterand wrote, "All the rituals of this market of youths, this slave market, excite me enormously. The light is bad, the music gets on your nerves, the shows sinister. But it pleases me beyond reason. The profusion of attractive and immediately available boys puts me into a state of desire that I no longer need to hide or check." This was not a scandal when Mitterand was chosen as a cabinet minister. Now French right wingers like Marine Le Pen, daughter of Nazi sympathizer Jean-Marie Le Pen, are calling for his head, and Mitterand is spinning furiously. According to the New York Daily News , Mitterand says that all the prostitutes he had sex with were of age, and furthermore , "I condemn sexual tourism, which is a disgrace. I condemn pedophilia, which I have never in any way participated in."
Mitterand's not the only one facing pitchforks for supporting Polanski. According to Salon 's Judy Berman , an organization called "Promoting Awareness, Victim Empowerment (PAVE) calling for a boycott of all films made by the director's 'Hollywood supporters'-that is, those who signed the controversial petition calling for his release." Like Berman, I think this is pretty extreme. She notes, "It's clear that many who signed the petition know Polanski personally'-and personal connections can't help but cloud even the most black-and-white situations."
It's almost starting to feel like supporting Polanski is like having attended a Communist Party mixer in the '50s. Yes, what Polanski did was unforgivably awful, and I fully believe he should be extradited and brought to trial. But persecuting his supporters is besides the point-that Polanski raped a 13-year-old-a fact I fear will get lost in the noise.
Photo of Roman Polanski by Vittorio Zunino Celotto/Getty Images.
---