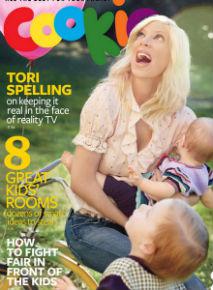 Cookie , the ultimate aspirational parenting magazine, was handed its Fleurville diaper bag and shown the door today by Conde Nast (along with Gourmet and a pair of bridal titles). But along with some pleasant inanity (Tori Spelling, keepin' it real), Cookie was a home for smart writing about parenting (Julia Glass, Deborah Copaken Kogan) that doesn't fit anywhere else.
I've joined some occasional mocking of Cookie , with its glossy pages of "hot mom hair" and 100-plus-dollar dresses for preschoolers. But after Wondertime was shut down last year, Cookie remained as a place for long-form essays focused more on the horror of parenting than on the how-to. Affairs. Favoring one kid over another. Sex. Anger. Volunteering. It was the bad-mom-go-to guide, with just enough celebrity parenting voyeurism to add that key element of guilty pleasure. If Wondertime was, to paraphrase a commenter's farewell to that magazine, the Dansko clog of parenting , Cookie was the Tory Burch flat. Now that they're both gone, I'm feeling like we're left with nothing but our running shoes.
Join the conversation. Follow DoubleX on Twitter .
---