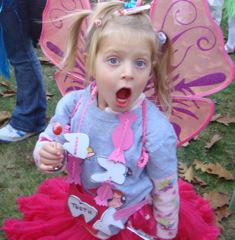 Halloween is a "yes" holiday-one day a year when I want to say "Sure!" and "Why not?" to all of the things I'd usually put the kibosh on, and one of those things is candy. Want to eat it while you're trick-or-treating? Fine. Want to taste that pack of red-hots I know you won't like? Here, let me open the box.
See KJ's kids, Dahlia Lithwick's son, and other DoubleX ers' families decked out in their Halloween finest.
What started as just a holiday free-for-all turned out to have some unexpected benefits. Stopping to appreciate a really exciting piece of candy means the goal of trick-or-treating is to enjoy the candy, not to accumulate as much of it as possible. And opening up every piece at home, just to see it-a favorite activity of preschoolers-just means that's what's opened and uneaten can be thrown away.
I asked my dentist about the annual candy binge, and he shrugged it off. It's better to eat it all at once than every day, he said, and CNN found other dentists who agree . As far as cavities are concerned, it's not how much sugar you eat, it's how often.
The surprising result of our open-bag candy policy over the past six years has been kids who really don't eat that much candy. It's fun on Halloween. It's fabulous the next day. But as the pumpkins are packed up and the candy bags start looking bedraggled, they're more than willing to move on.
---