Every Wednesday is Tip Day.
This Wednesday: Five great "don'ts" of a happiness project.
Several people have said to me, "When you're making a resolution, it's better not to say 'No' or 'Don't' to yourself. You should keep it positive. Find ways to say 'yes'!"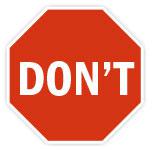 I think there's some merit to thinking about resolutions this way—but I don't agree completely. First of all, sometimes it feels good to say no to yourself. For instance, I resolved No more drinking (mostly) , and that resolution has made me much happier. (If you're giving something up, you might want to take the "Are you a moderator or an abstainer?" quiz.)
Also, sometimes following a "don't" can make you very happy. Here are the five great don'ts of my happiness project—admittedly, some of them are fairly controversial:
1. Don't get organized .
2. Don't use my self-control .
3. Don't treat myself .
4. Don't practice random acts of kindness .
5. Don't try to keep that resolution .
My personal favorite is "Don't get organized." What do you think? Have you made a "don't" resolution that has made you happier?
* A reader sent me the link to a very interesting post on the great blog the Simple Dollar: 15 things more important than money .
* It's Word-of-Mouth Wednesday! This is  when I gently encourage (or, you might think, pester) you to spread the word about the Happiness Project. You might:
? Forward the link to someone you think would be interested
? Link to a post on Twitter
? Pre-order the book for a friend
? Put a link to the blog in your Facebook status update
Thanks! I really appreciate any help. Word of mouth is the best.

---