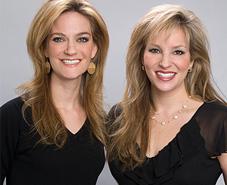 What exactly is sexual harrassment? What are the rules and regulations for hiring a nanny? If I post-date a check, can it be cashed now? Do I have to pay tax on stuff I sell on eBay? At what point is my health condition considered a disability?
No, this isn't a quick Monday quiz. It's a sample of questions contained in a useful new book So Sue Me, Jackass! Avoiding Legal Pitfalls That Can Come Back to Bite You as Work at Home and at Play , written by the sisters Amy Epstein Feldman and Robin Epstein. (Amy's the lawyer and Robin's the writer.)
The two decided to put the book together after a year in which Robin wanted her sister to help her decipher a contract with a video-game company in London, then break her lease and get her security deposit back. She also asked what one friend should do about getting fined for a cell-phone infraction on an airplane and how another could get a restraining order against her mother.
"I get questions about speeding tickets, delinquent children, and nasty neighbor disputes. They ask about their office pools, prenuptial agreements, and household help," writes Amy in the introduction. "And while some are in real hot water and need independent counsel, others just want a better understanding of their rights and/or what to expect if they wind up in court."
I heard from Robin a couple of weeks ago, when I asked for sisters to write in, and I was intrigued to check out a book that can be a handy reference tool for women who need a quick answer to legal or financial questions. The pair covers everything from pet insurance to prenups ("I do or I don't?") and they have done your research for you-no matter what state you live in. They explain your online rights, your tax breaks, your liabilities-they even help you with the dress code for office parties. ("Though they may be real and they may be spectacular, best to keep the boobs under wraps.")
It's valuable to have a guide not just for the transitional periods of your life, like moving house, getting married, divorced,or changing jobs, but for the moments when you feel caught up by the system. If you've been busted for texting in your car, or someone got hold of your credit-card information, or your neighbor dislocated his shoulder when playing bowling on your Wii, then this could be the book for you.
As far as the prenup question goes, the answer is sensible and more detailed than the question suggests. I won't reproduce it all here. If you're interested enough, or you feel you need to ask, then go and buy the book.
Photograph of Amy Epstein Feldman and Robin Epstein courtesy of Amy and Robin.
---