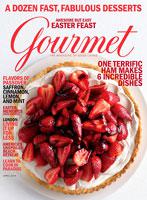 I recall, a few years ago, wrinkling in a long, cool bath in my parents' home, unable to put down a lyrical ode to lousy English grub, penned by a copy editor at the magazine. It was the sort of essay one could have found in a dusty iteration of The New Yorker, perhaps, but likely nowhere else in the present day but in a magazine edited by a woman who relished writing as much as eating and cooking, and was devoted to both. In the apartment where I grew up, a full quarter of the bookshelf real estate was staunch with hefty navy blue binders, each scrawled with a single word in gilt script, each housing 12 issues of glossy pages too polite to be pornography and too fastidious to be fashion, yet as loaded with fantasy as any magazine I have known. My parents borrowed and gave away novels and history books. In our home, it was Gourmet that flanked the couch, relegated not to the kitchen-oh no-but to the center of our home, the living room.
They would occasionally bake a torte or stuff a chicken from the recipes gathered in the back of each issue, but no more often than from the cookbooks stored in our tiny kitchen. Gourmet occupied a place as cerebral-emotional, even-as it was pragmatic. It was a magazine for thinking about food, as aspirational as Vogue , but without the requirements of an emaciated body, perfect cheekbones, or a Saudi Arabian bank account to render such dreams manifest. Gourmet was pulled off the shelf when trips were planned, when dinner parties were imagined (what they could be as much as what they would be), and when the pleasures of life begged exploring in not just images, but words. This was no equivalent to Architectural Digest , or other paeans to impossible elitehood. Nor was it an inheritor of the housewifely can-do genre. It bridged the place where men were chefs and women got dinner on the table-such distinctions were not part of Gourmet's worldview (and, perhaps because of it, mine neither).
I don't write about food, but I can't parse ideas without chopping vegetables or whisking a marinade. I find recipes on my cookbook shelf, or, mainly these days, on Epicurious.com, and then I dismantle them based on my mood and what happens to be getting impatient in my refrigerator. I never subscribed to Gourmet. Like any revered institution, I thought it would simply survive outside the market forces, ballasted by its own history. I guess I forgot it was a magazine. I would pore over my parents' issues and occasionally pick up a newsstand copy. A couple of years ago, my parents hauled off the nearly four decades worth of navy binders they had gathered to make way for more air and light in the living room. My heart dropped when I learned this. I had always thought of that collection as my inheritance, in some ways. "Where would you put the damn things?" my mother asked. She was right. They look up recipes online these days, as I do, dragging my favorites into a bookmark folder instead of actually bookmarking them. (God forbid anyone rip a page from those binders to jam into a now-antiquated recipe box).
Scanning the list of Conde Nast magazines which have survived the McKinsey deluge today, I begrudge the denizens of so many mastheads nothing. They do their jobs and do them well. People want makeup tips and diet tips and, yes, recipes still, but recipes framed in a way that is merely at their service. I don't want service. I want civilization.
Join the conversation. Follow DoubleX on Twitter .
---