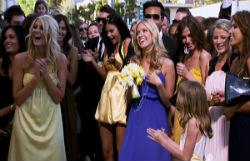 The Hills premiered last night on MTV with a new "character" narrating the dull goings-on of pretty blondes I can't actually tell apart: Kristin Cavallari, last seen during her halcyon Laguna Beach days of youth ( or maybe frolicking with C-list celebrities in the tabloids ), has moved to Los Angeles. But don't expect any welcome parties. I mean, the episode is called "It's On, Bitch." And the immediate, compulsory frenemyship on last night's show is more brutally staged than a Michael Vick dog fight.
So it begins: Lo, Audrina, and Stephanie are sitting and talking (what?!) about Kristin's impending introduction to their show, which is sort of amazingly meta and also sort of whatever. Stephanie comments that Kristin has the reputation of being a "maneater" which she defines peculiarly, evidencing her statement with the fact that "Brody bought her a dog!" (GASPS all around.) She also points out that Kristin has slapped a girl. The scene ends with Lo asking, dreadfully, "Is she going to be our friend now?" And how good of her to ask! Because friendship on the show isn't really a choice one female individual makes when confronted with another female individual she feels warmly toward; it's a production decision. So yes, Lo, you will be friends with her. And yes, you will fear her and then talk behind her back. Because that's the way friendship on TV is engineered.
Of course, that's nothing new for The Hills , and probably 50 percent of its viewers watch it ironically, while the other 50 percent watch guiltily. But what got my goat during this episode was just how blatant and over-the-top the manufacturing of the conflict was. Kristin walks into Spencer and Heidi's barbeque and says "Hello" to Justin Bobby, Audrina's on-and-off-again loser Beatnik of a boyfriend. Suddenly Stephanie is yelling at Kristin about "not respecting Audrina." This, of course, devolves into the the episode's namesake "It's ON, bitch" retort. And there you have it-two girls who already hate each other over a simple misdirected salutation. Fighting would be more likely over a stolen hot dog, but despite this, the episode ends with Stephanie cautioning everyone about Kristin. Doing her best Men's Warehouse impression, she tells her clan to treat their new addition cautiously: "She's the girl who's going to stab us in the back, I guarantee it."
Which is likely true, because the producers will command it. I mean, how would The Hills stay interesting without constant overly scripted cat fighting among friends? I guess they'd all have to get jobs or something. BORING.
Photograph of Kristin Cavallari on The Hills by MTV.
---