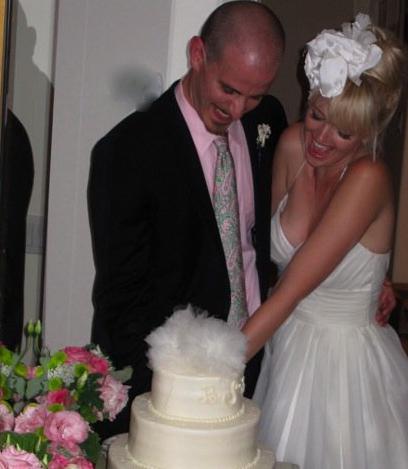 We're married!
As predicted, it happened. The wedding day was perfection. From the moment I woke up on that Sunday until I fell asleep next to my husband, I was one happy nuptial clam. I had a donut and large iced coffee for breakfast. I made multiple trips in my family's golf cart. I tied pompoms on the pier and roof with the help of my bridesmaids. I got dressed with my sister and my best friends, I was photographed with my beloved family, and then I married Dan! We exchanged vows and rings, kissed, took more pictures, ate a delicious dinner, and then danced and danced, and talked and smiled. As friends have begun posting photos on Facebook, we both keep commenting on how happy we look. It's terrific to realize that you looked as happy as you felt.
The wedding day was wonderful. My parents were thrilled with everything,and my in-laws had a fabulous time. Friends and family sang during the "talent portion" of the party and beautiful toasts were made. I might be biased, but it was a wonderful wedding-a fabulous way to begin a marriage.
I made a vow, a week before the wedding, not to worry about anything. I reflected on my (albeit brief) yogic past and thought, "I will ride these emotions like waves, I will not worry about a thing; events will happen and that will be the way they happen." And you know what? I miraculously stuck to it. However, and this is a big however, not everyone else made that vow. Keep that in mind as I segue into "the week before the wedding," which will forever be a distinct time in my brain.
Imagine the following: travel, lots of money being spent, emotions running high, exes thrown together by mutual friends, and families spending time together. It's stressful. Even if it's for a wonderful occasion, it's stressful.
It was remarkable. If you had asked me to sit down and make a list of the hot-button emotional topics in each wing of the family, I would have written down the very issues that came up the week before the wedding. In addition to the above "emotions running high," I should mention that the week of the wedding everyone stopped sleeping. I might not have been worrying, but I was also not sleeping. I took sleeping pills a of couple nights and still woke up, alert and ready to go at 6 a.m. That might not sound early, but when you're going to bed at 1:00 a.m., it's not quite enough sleep. Especially if you are me. Other members of my family fared even worse, averaging three hours a night. As any overtired 4-year-old knows, you are more likely to cry if you haven't had a nap.
I'm not going to get into too much detail here because I am related to everyone I'm talking about (either by blood or law), but let's just say the week before the wedding had plenty of bumps. Some were interpersonal, some were hardware-related, and some were both interpersonal and hardware-related. And there I was, riding them out like waves. At one point my sister asked me what I was going to do about a particularly sticky situation that had arisen. "I'm not going to worry about it," I said. "Maybe you should," she said. Dan handled that situation. I'll be honest: I had a couple of … edgy moments and said a couple of sharp things that were not very "wave-riding" of me, but, hey, emotions were running high, and I apologized afterward. I'm sorry again, Mom.
But, like magic, all of the drama evaporated Sunday morning. Everyone was excited, happy, and most importantly, relaxed. And we all just rode that wave all the way in, if you will.
I'd like share my best advice about wedding days:
1. Hire a "Day-of Coordinator." If you have a full-time planner, then never mind, but if you don't, please hire one. This person works as a stage manager, herding the bridal party around, timing things with the caterer and photographer, telling the bride to relax, and cuing the aisle-walking. Our DOC, Kerrie Underhill , was terrific and allowed all of the Moloneys to relax and enjoy the day-tables were set up, flipped, put away while we we're busy hugging and kissing.
1a. Relax and trust the Day-of Coordinator. It's his or her job to make the wedding happen, not yours.
2. Enjoy yourself. Enjoy the ceremony! Enjoy the party, if you're the type who enjoys parties. I was told to "be present" so many times that during the ceremony that I was actually thinking, "Be present, be present," and so I had to relax my mind a little. I looked around, smiled at Dan, at my family in the front rows, and listened to the poem our dear friend read (Frank O'Hara's Having a Coke With You ). Remember: You aren't performing; this is a ceremony with your favorite people (or as many of them as you could fit in your venue), and you shouldn't be worried about messing anything up. Look at how Zen I am.
3. Take your pictures before-if you are doing formal portraits, that is. If you are signing a Ketubah, you will no doubt do this, but if you are having a secular wedding (as we did) or a non-Ketubah-signing wedding, you can choose to do the traditional reveal at the altar or do a "first look" before the ceremony, and then get all the big group shots out of the way. You will probably want to spend some time at your cocktail hour (gin-and-tonics and short ribs, anyone?), and this way you aren't away from your own wedding for an hour or so after the ceremony.
4. You should go on a honeymoon. I mean it. If you think that's silly or expensive then allow me to rephrase: You should go on a trip right after your wedding with just your spouse. It doesn't have to be far away or luxurious-in my opinion, those things are added bonuses, but a tent-a tent far away from your cell phone and your to-do list-would suffice. Heck, that might better suit some outdoorsy types.
One assumes that honeymoons, for a long time, existed as an opportunity to have sex with your partner for the first (and then second, third, fourth … ) time. But even if you've been living with your spouse for years, you should have a honeymoon.
By 4:00 p.m. the day after the wedding, I had a full-blown cold. This is what I like to refer to as a "closing night cold." My body holds off whatever sickness is trying to make an appearance until I don't have anything to do. Except fly to Hawaii. We were completely wiped out, physically as well as emotionally. Weddings might be the happiest day of your life but let me tell you, if you're looking to unwind, they're a terrible option.
And if your prenupital lead up was anything like mine, you will have barely seen your new spouse. You will have both been entertaining out-of-town friends and family,often simultaneously and separately. And now! Now you are married! You are each other's next-of-kin! You'll want to celebrate that privately, luxuriate in your new status, as well as gossip as husband and wife about the party.
You will also want to sleep.
We flew to Maui, rented a car, went to our hotel, had a snack and fell asleep at 6:45 p.m. Hawaiian time. We woke up at 6:15 a.m. It was great. We had decided to splurge and stay at the Four Seasons Waliea. They had a great promotion and we decided to go for it. We saved up money. Let me tell you, the FS Waliea is the bee's knees. They knew it was our honeymoon, so we were upgraded (to an ocean view), there was chilled champagne involved, and everyone called us Mr. and Mrs. OurMarriedName, which was good practice. I tried out referring to Dan as "my husband," which went well. When you are tired enough to go to bed at your 7-year-old self's bedtime, you'll realize how glad you are not to have opted for a grand tour of Western Europe or hiking trip.
A honeymoon is also a good time to realize that your husband's wedding band is too big and should stay safely in the room while you swim in the ocean.
It's also a wonderful time to just smile at each other and repeat "We're married!" over and over. After the prewedding craziness and then the actual wedding, it's wonderful to be reminded of what that was all about: you and your partner spending your life together. It doesn't hurt if that journey starts on white sand.
PS: I realize that it is a luxury that we are married, and not everyone in America has the right to marry their partner, something I wish were different.
Photograph courtesy of Bridget Moloney.
---