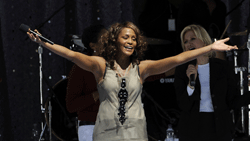 To kick off her long-gestating comeback, Whitney Houston performed on Good Morning America yesterday. It didn't go well. Houston's speaking voice, as she incited the crowd to get pumped, sounded as gravelly as an octogenarian's with a seven decade, two-pack a day habit. Her singing voice, the one that matters, sounded a little better, though it lacked almost all of its former range and strength. (On the upside, at least Houston looked nice). It turns out all the magical thinking in the world can't make years and years of drug use and extremely hard living good for a person's voice. For the next few weeks, as Houston goes from one splashy publicity event to the next, we're all going to be witnessing a tragic spectacle. (She'll be on Oprah on Sept 14. Be there, or be forced to watch clips of it afterwards.)
Whitney Houston was once great. Her voice-clear, clean, communicative, and with all the uplift of a gospel choir-is the only necessary evidence, but there's plenty more supporting material. In the MTV era, there have only been two female performers, Madonna and Mariah Carey, to match her-and she has better pipes than the former and, hard as it is to imagine now, once had a lot more class than the latter. Whitney Houston has 11 number one singles, including all-time love ballad " I Will Always Love You," and insanely infectious '80s tracks like "How Will I Know?," the seventh-most of any performer in history. Back in 1992, when Houston starred in The Bodyguard (the soundtrack has sold 42 million copies, making it one of the top 10 selling albums of all time), her eventual descent into some perfect tabloid hell would have seemed as likely as the possibility that, 10 years from now, Reese Witherspoon will be recovering from a career-, fortune-, and reputation- destroying crack problem.
But since 2002, when she released her last album, Houston's most interesting contribution to pop culture has been the indelible conversation she had with then husband Bobby Brown on his reality show Being Bobby Brown about doodie bubbles. (If you want to know, read here .) As much as it disappoints me to say this, (and, seriously, I was routing for a comeback. "I Wanna Dance With Somebody" has been on heavy rotation on my iPod since before I had an iPod), her new album, I Look To You , is, if not quite terrible, thoroughly dull. She sounds fine (better than most of the singers who've been run through pitch-correction programs. As weathered as her voice sounds, it's still better raw material than the likes of Britney Spears are working with), but the R&B songs could be Muzak.
Becoming a lesser version of yourself, as Houston has, is sad (and pathetic), but becoming a lesser version of yourself because of yourself, well, that's tragic, in the classical sense. Whitney had a gift, and it's her own flaws (drug addiction, hubris, love of a bad man. I'm sure there are other possibilities) that killed it. Now we have to watch her sing on national television, something akin to visiting Michaelangelo's David if his entire torso had been destroyed. It's interesting, but it's hard to appreciate what's left, when you're always thinking about what used to be there.
Photograph of Whitney Houston by Larry Busacca/Getty Images.
---