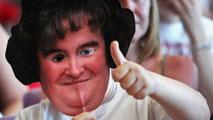 When I see a headline like " Time to take Susan Boyle seriously ," I tend to follow the written instructions, which in this case meant digging up Boyle's version of "Wild Horses " that inspired Ann Powers. I'm billing the LA Times for the dental work to fix my newly popped cavities, right after I put Sticky Fingers on my turntable to wipe out the memory of this travesty. Now, I don't hate everything that achieves a certain level of popularity-I'm a fan of Lily Allen and think Beyonce's a pretty good singer-but I'm still an adherent to the old-fashioned belief that popularity doesn't make up for crappiness.
This no doubt makes me a snob, an elitist, and a hater of democracy. Powers praises Boyle's saccharine, unimaginative oversell of the classic Rolling Stones by praising its lack of irony, its "mask of sincerity," and adherence to all the hallmarks of cheese so beloved by whitebread America that wants to avoid anything challenging. I flatly cannot understand why popularity should mitigate one's dislike of "art" that's so artless. The great thing about the explosion of pop music in the past century is that it collapses the distinction between the individual stamp of being an artist and having popular appeal. The Stones were great pop music, after all.
I'm not made of stone. I watched the video where Boyle overcame prejudice based on looks to prove herself an able singer on Britain's Got Talent , and found myself rooting for her. But let's face it. That she's a competent singer doesn't make her a star, and it has everything to do with her voice and nothing to do with her looks.
A critic guilt-tripping the audience for not thinking much of scrappy Susan Boyle's actual art feels very … familiar. The pressure to indulge illusions about Boyle's talent reminds me of every time liberals get labeled "elitist" for laughing at creationists, suggesting that Ayn Rand was not a good writer, or scoffing at Sarah Palin. The right wing populism card has been routinely played since Richard Nixon waxed unpoetic about the "silent majority." At least in politics, the idea that being popular mitigates the undesirability of being all wrong has some justification, because it takes being popular and not being right to win. Of course, "popular trumps right" doesn't do much for a nation's well-being, as the Bush administration demonstrated, but you can at least see why the idea is attractive.
But why on earth should this attitude apply to aesthetics? God forbid you get caught hauling around a record by Hot Chip or Yo La Tengo instead of joining Boylemania-someone might call you a "hipster." I can't quite put my finger on when the populism of mediocrity started to overtake the desire to be considered someone of taste, but now that we have an LA Times record critic praising Susan Boyle because she's just mediocre enough to hit the big time, I have to say it's time we started a movement to reclaim the terms "snob" and "elitist."
Photograph by Jeff J. Mitchell/Getty Images.
---