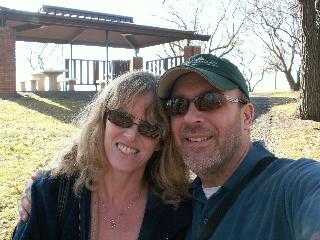 Anyone who has gone through trauma and loss will recognize the situation described by Ann Bibby and other widows who wrote in following our request for submissions. Your friends and relatives ask how you are, but they are really seeking their own reassurance. If you're OK, they're OK. We'll be hearing more about this as I post the widows' pieces in the days to come. (You can still send submissions to emma@thecomebackbook.com.) Ann originally wrote in to describe how marriage had changed her. "Anything I have changed about myself personally was slight," she wrote. "Neither of my husbands had issues with who I was as a person. They didn't marry me thinking I would eventually be the woman of their dreams with time and elbow grease, but that I already was." I liked her attitude. And I was intrigued by her story of widowhood, so I asked her to write back telling us more about. Here's what she had to say.
I met my husband Rob online. We were both members of a support board for young widowed people called the Young Widows Bulletin Board (YWBB). It's not easy to find support groups locally when you are widowed before the age of 60 or 65, and hospice bereavement groups tend to deal with all forms of loss (spouse, child, parent or friend) as though they were the same.
I replied to something Rob posted about how his 23-year-old daughter had commented on how his behavior reminded her of a teenager-up all night, sleeping all day, blasting the stereo, always online. My reply was meant to be a joke. I told him we could be twins. I called dibs on being the evil one. There is a fair amount of joking and flirting going on in arenas like these because people miss the adult companionship they never counted on losing. In retrospect, I was not far off with the twins reference. We have been a near-seamless fit from the beginning.
He sent me a private message then, basically offering to be pen pals. He'd seen some of my other postings and thought we had things in common. He was sincerely offering friendship-although I had PM's from other widowers offering a bit more than that in my time there. Rob's wife had died of cancer in mid-August of 2006. My husband had died that January after a three-year battle with a degenerative genetic illness (adrenoleukodystrophy) that had stripped his nerve endings and brain of their protective coverings.

We started e-mailing and then moved to instant messaging. The day after the first anniversary of my late husband's death, Rob sent me an e-mail confessing that his feelings for me were changing. Would I be interested in exploring more than friendship? That was Jan. 24, 2007. We had our first phone date that weekend and met for the first time in Idaho Falls a month later. And that was that. We were engaged over a spring break trip to Arkansas a month afterward and began to make plans for my daughter (who was 4 at the time) and I to emigrate to Canada. We married that June.

Was it fast? Yep. But we were 43 and 45 years old, respectively, and we threw all our cards on the table, including the jokers. And it was no faster than the first time for either of us. Rob moved in with his first wife when he was 17 and she was 18, and they were together for 27 years, 25 of them married. Will and I were living together two weeks after our first date, and we married nine months later.

Being widowed is one of those hard-to-explain things, because while many aspects of grief are similar, no two people approach the aftermath of tragedy in quite the same way.

Physically, I was a wreck. I'd been a caretaker for years. Will was in hospice for three months prior to his death, and I was exhausted and emotionally spent-mostly from dealing with people: his mother, my co-workers, my child, his friends, his extended family. After Will died, my daughter and I were mostly on our own, and I was too busy to think much, but when I did, I thought about rebuilding my life. It had gone on hold in 2003, and I was desperate to jumpstart it. What I had gone through made me feel left behind and old.

I entertained thoughts of dating and made half-assed attempts as early as August of 2006. By the time I met Rob, I was starting to really envision the future. What did I want to do? Where did I want to live? What did I want life to look like? I was looking for role models and not finding any. I found plenty of "good widows," but no one who wanted widowhood to be merely one aspect of their life experience as opposed to their definition.

Widowhood is like being peeled like a grape and left out on the sidewalk to sizzle in the sun before drying up and blowing away. Only it's like Groundhog Day because it's the same thing every day for weeks and months. And while every day is the same for you, people around you just want you to be fine because that is less scary for them. I quickly learned that the answer to the question "How are you?" was "Fine." You could see the relief wash over them that I wouldn't need any help or slack off and best of all-wouldn't be bursting into tears. People's ability to be actively sympathetic is relatively short.

When I finally found a young widows group, I was 10 months out. Most of the women were new-like me. We all had that same drawn look and concentration camp eyes, hollow and looking inward for something that was no longer there. Even at a year out, people would comment on my eyes. How sad they looked. I could fake a lot. Did fake a lot. You can't hide loss. You can't forget watching someone die.
Ann Bibby is a writer who is currently writing her memoir and blogging for 50-Something Moms and at her own site anniegirl1138 .
Photograph by Rob Bibby.
---