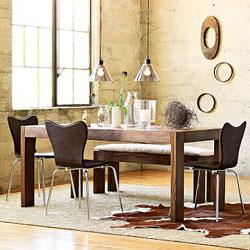 I'll be honest: I don't eat at home too often. When I do, it's sort of an inhale-the-veggie-dumplings-over-the-garbage-can scenario-no wonder I see certain restaurant waitstaffs more often than I do my family-yet I hope to settle into a more domestic dining routine very soon. So what are the best options for an inexpensive table and chairs? Let's do a little mix-and-match roundup like they used to at Domino (loved those sections), because despite what Raymour and Flanigan might have you believe, coordinating "dinette sets" aren't all that stylish!
1. I'm loving West Elm's rustic Modern Farm Dining Table ($599): Looks like they caught on to Crate & Barrel's Big Sur moment and jettisoned the high price tag. I prefer the "natural" option and see it paired with a slick, modern chair … just not any of the the ubiquitous Philippe Starck options. What about this honeycomb-esque Alchemia chair by Calligaris for $288.95? Looks sort of '60s-futurist, and I love the opaque red or black, but the clear versions have an unfortunate gummy shoe quality.
2. This Regan Dining Table from HomeDecorators ($419 for a 60-inch round, great for conversation) has a sort of Eames base with with a shiny white top. Why not break up those hard edges with a more feminine Louis XV-style side chair from Wisteria ($299)? As a general rule, French-y dining chairs like this one look best covered in a solid fabric like this tomato linen, or else a polished leather. Graphic stripes, geometrics, and florals tend to fight with the curvy lines and intricate carving.
3. For chic communal dining, why not try this watermelon Strut Table from Blu Dot (pictured, $699 for a 54-incher) paired with a tortoise- speckled bamboo bench from Pearl River ($45.50-59.50)? I'd make a cushion for the bench in an ultrasuede to match or in another bright color with contrast piping. Cheery, sturdy, and unexpected for a breakfast room.
---