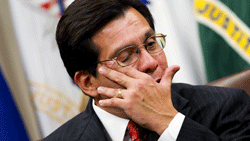 If you have a spare hanky, squeeze out a few tears for Alberto Gonzales. The man's foibles are the subject of a joke opera, The Gonzales Contata , at the Philadelphia Fringe Festival, which has a website that announces, "In protest of male domination of American politics, the genders of the performers have been reversed in relations to the characters they portray." I'm sure Gonzales always wanted to see himself in women's studies drag.
And more laughingstock fodder: Gonzales has now taken back the support he gave earlier this week to Attorney General Eric Holder's decision to launch a preliminary investigation of alleged instances of CIA torture. At first he said, "I think it is legitimate to question and examine that conduct to ensure people are held accountable for their actions, even if it's action in prosecuting the war on terror."
That seemed digified - a former AG giving the benefit of the doubt to his successor. But now there's a redo: "I don't support the investigation by the department because this is a matter that has already been reviewed thoroughly and because I believe that another investigation is going to harm our intelligence gathering capabilities and that's a concern that's shared by career intelligence officials and so for those reasons I respectfully disagree with the decision."
As Jeremy Pelofsky of Reuters says , "Sounds like the rollercoaster ride is back on the conservative track." But why? In August, Gonzales told the NYT' s Deborah Solomon in August that he hasn't spoken to George W. Bush since Bush left office. This cold shoulder from the president who was supposed to prize loyalty above all else, and repay it in kind. Like I said, cry for AG AG.
Photograph of Alberto Gonzales at his farewell ceremony by Brendan Smialowski/Getty Images.
---