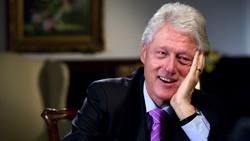 I've spent a crazy week in New York City covering the United Nations General Assembly and the accompanying intense crush of foreign languages, traffic jams, and foreign policy. At the fifth annual Clinton Global Initiative in New York, former president Bill Clinton was kind enough to sit for a lengthy, far-reaching private interview with a few bloggers, during which he discussed the role of women and girls in his administration and in his new nongovernmental role. I wanted to share the meat of his response to a question from a mom-blogger whose name I now unfortunately forget. Below, his response to her question about regrets about action on women's rights during his term, and Secretary of State Hillary Clinton's commitment to the development of women around the world:
Well, you've got a Secretary of State that thinks it's the most important thing going. When president Obama talked to her about taking this job, she said "I want to help you, and I feel duty bound-no one has the right to say no to you. But if I'm going to give up a job that I love, I hope that you're going to let me do this, because it's really important to me." …

I want the NGO community to complement whatever the United States does on this, and I want them to do what they do best to move quicker and faster into the gaps-to prove that this is worth doing and it can be done.

Julia Ormond once said I was insufficiently aware of women's rights. [ Good for her! ] That there is more sexual violence and human trafficking than I was aware of. She was right. A lot of young women are being abused and used for sexual trafficking. And increasingly today, young boys are also being sold into sexual slavery. So in addition to the education and health issues [facing women] there is also the trafficking.
Clinton then launched into a profound, consensus-building argument about the rights of women that seemed to attempt to fly above the abortion wars:
With all the fights in the world about abortion rights and choice and family planning and all that there is only one proven strategy that is not opposed by religious authorities-except some fanatics and cultural authorities-that slows the birthrate and raises per capita income. The only proven strategy is to put all the girls in the world in school. And a marjority of the people who go to substandard schools with no teachers and training materials are women. So if you put all the girls in world in school and give young women access to labor market, it slows the birthrate and stabilizes civil society.

We've seen the rates of women in college go up in the U.S. There are now more women than men in school in Saudi Arabia-even there [shakes head].
It was a smart and remarkably honest assessment. And Hillary Clinton has indeed made these hybrid reproductive and economic advancements a centerpiece of her agenda as Secretary of State . In Democracy Journal , I've penned a review of Michelle Goldberg's fantastic new book on the topic , The Means of Reproduction . Goldberg picks up where both Clintons leave off, establishing a similar causality on economic development in emerging markets. She clearly backs up the thesis: The best way to empower women around the world is to educate them and give them reproductive choices. She also probes the factions in international law that are moving toward a theory of women's rights as human rights:
It was not until the late 1970s, several years after Roe , that the population control alliance fractured, and the Protestant right began to agitate against the freedoms that 1960s cooperation had helped normalize. Goldberg, author of 2005's Kingdom Coming , a book probing the rise of Christian nationalism in America, is well matched to the task of reporting the unique aggression of religious groups in this battle. She argues convincingly that the rise of the religious right, as well as the advent of globalization, began the outsourcing of the domestic culture wars. Suddenly, religious conservatism was not all prayer and sloganeering; American Protestant groups, as well as the Catholic Church, began to play a strong hand in the law and diplomacy surrounding access to contraception and abortion. The so-called "global gag" on abortion providers is the classic example. The Christianist Ronald Reagan coalition could not shake Roe , so it picked the lower-hanging fruit: withholding assistance to clinics abroad where doctors even whispered about abortion. Goldberg describes the seismic shift:
As the global women's movement fought to make reproductive rights universal, conservatives from around the world joined hands across theological divides in opposition to what seemed the ultimate in aggressive cosmopolitanism. United Nations meetings and conferences would become forums for seemingly obscure but often intense and consequential struggles between universal rights and religious and cultural tradition, between the liberties due each individual and the power of groups–nations, villages, families–to regulate their members.
Photograph of Bill Clinton by Marvi Lacar/Getty Images for Meet the Press.
---