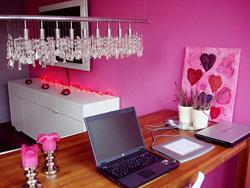 Ah, college . Whether Bacchanalian fantasy or ivory tower tedium (guess which was my experience), these years usually share one thing in common: utterly crappy living conditions. At least for freshmen. Seriously, twin beds and communal bathrooms? No, thanks. But I love a challenge, and an 8'x10' room with a suite of yellow oak furniture certainly qualifies as such. Here are my tips for maximizing your scholarly style without breaking that beer budget:
- Paint : Not every dorm allows it, and most require painting the room back to white or cream at the end of your stay, but when else can you justify living in a symphony of fuchsia? College is about expanding your mind AND your decorating horizons, so hark back to that favorite color from kindergarten and go crazy. Invite new friends from orientation week over for a painting party. But PLEASE no accent walls : They only make a small space feel smaller. Four walls in a latex high gloss will make quite a statement to those kids who brought every single Beanie Baby with them from home.
- Fabric : You can take it with you. By that I mean fabric-duh-not lessons from Plato's Republic . Sites like ReproDepot and Fabric.com offer interesting patterns in every style from mod to Vera Bradley for as little as $5 per yard. For a minimal investment, you can make your room feel like the maharajah's tent (by tacking gathered bits of lightweight fabric at the ceiling with a stapler or Velcro), only rip it all down in the spring to repurpose for your sophomore splendor. The less ambitious might attempt a wall of fabric behind a headboard or stretch a favorite print over readymade bars .
- Repetition : For me, small space inspiration begins and ends with department store windows. Master window dressers like David Hoey and Simon Doonan know how to create visual impact in close quarters, and lesson number one is repetition. If fall fashion was having an Ernestine moment, I can guarantee you'd see a Bergdorf's vignette with 200 vintage telephones. Same rules apply in a dorm. Even for the ubiquitous band poster … why not group all those MGMT graphics and mag covers together on one wall with an even 2-inch border between them comme ça ? Or go to the copy store and experiment with xerography (a hyperpretentious term I learned in college): Enlarge a favorite image 1000 percent and paper one wall with 8.5"x11" black-and-white photo tiles. I also like simple geometric decals , but again, only if they fill the entire wall.
- Furniture : Probably the most difficult variable in the dorm room equation. If you're not gutsy enough to put the standard-issue fugliness in storage like this kid (witness the current pinnacle of dorm decoration!), I say do your best to hide it with fabrics (skirted tables, makeshift headboard slipcovers, and the like) or just create diversions with artwork and rugs. There's another idea: Ikea offers so much fabulosity in this department , why not invest in a bunch of ten-dollar herringbone mats or a bold stripe to layer over the hideous dorm carpet? They'll travel to future rooms and first apartments … studios that will cost your entire starting salary!
General advice : Go big, go bold, or go back home. Bring your own lights and change every bulb except for the one in your desk lamp to a 40 watt (or less) pink incandescent. You'll make more friends that way. Avoid cheesy sheer curtains or tab-top panels; try inexpensive bamboo blinds instead. Oh, and don't work too hard … or maybe just stay in school until the recession's over. Heh.
Photograph of fuschia room by flickr user Jolante .
---