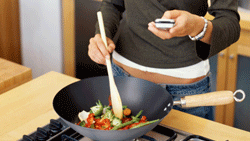 Sometimes it's hard enough to find time to eat, let alone cook, when you're a woman on the go. We all want a balanced diet, just as we want equilibrium in the rest of our lives. These days, though, "balance," when it comes to food, means healthy, cheap, and quick to prepare. Luckily Rachael Cordella of The City Girl Cooks (www.thecitygirlcooks.wordpress.com) has volunteered to share some of her tips with us. She begins with seven recipes that will put food on your table faster than any delivery service. I'd love to hear from anyone else who has recipes or ideas to share. What meals or snacks do you pack for a flight, for example? What do you take into work? What can you slap in front your kids the minute they walk in the door? Send me your tips at emma@thecomebackbook.com and I'll post them. Meanwhile, over to Rachael:
I have a love/hate relationship with cooking. It often calms me. There's nothing like mindless chopping and dicing to take my mind off of a bad day as I concentrate on not cutting off my fingers. And the sense of accomplishment I feel when I triumph over a difficult recipe is usually worth the effort.

But sometimes I just don't want to. Sometimes I have really long days of one crisis after another. Sometimes the thought of turning on the oven in my sweltering apartment is more than I can handle. On those nights, I really struggle to fight against the temptation to order sushi. I mean, what could be easier than picking up the phone? As I've become more comfortable with improvising recipes, I find that throwing something together is often much faster than waiting for delivery-even in Manhattan where my favorite takeout places are just a few blocks away.

I open the refrigerator and pull out any veggies that look like they're not going to last much longer. Then I open the freezer and grab the bag of frozen shrimp that's a staple for us. And lastly, I take my sauté pan from its place of honor-hanging on the wall, since we have little cabinet space-and throw it on the stove.

A good majority of the recipes on my blog were made using my sauté pan . I use it for everything from braising leeks to boiling soft pretzels to cooking chicken . I even boiled potatoes in it this week, because water comes to a boil so quickly. It's great because it can go on the stove top, in the oven or broiler, and even, thankfully, in the dishwasher (although I do tend to hand-wash mine).

So next time you're tempted to call your favorite takeout place, grab your sauté pan and try one of these quick, easy, and healthy meals. These are recipes, but feel free to substitute and season to your liking. Most of these will feed two.

-Halve about a half-pint of grape tomatoes. Toss them in a sauté pan with a little olive oil and minced garlic. When they're just starting to soften, add about half-pound of shrimp and sauté for 3-4 minutes. Season with whatever you'd like-I used a Greek seasoning in this version . Add chopped or torn basil. Serve plain or over couscous.

-Heat a thin layer of olive oil in your sauté pan. Add chopped yellow squash, halved grape tomatoes, and raw (or frozen) corn. Heat until tomatoes are just starting to get soft. Season with chili powder and salt. Add about a half-pound of shrimp and sauté for 3-4 minutes. Remove from pan into serving bowl. Add the juice of 1/2-1 lime and diced avocado. More specific instructions here .

-Heat a teaspoon of olive oil in a sauté pan. Add a pound of ground chicken, turkey, or beef. Add a palmful each of chili powder, cumin, and coriander; a dash of cayenne; and some garlic powder. Serve with soft corn tortillas and top with shredded lettuce, tomatoes, and sour cream.

-Heat a teaspoon of olive oil in a sauté pan. Cook beef or chicken strips with sliced green or red peppers, and onions. Season with chili powder, cumin, and coriander and serve on flour tortillas or fajitas, or go light on seasonings and serve on a roll with melted provolone.

-Heat a teaspoon of olive oil in a sauté pan. Add thinly-sliced yellow and green squash. (I like to do one of each for two people.) Add salt to taste and sauté until the squash starts to brown. Serve as is for a simple side dish, or add chicken, shrimp, or tofu for a more substantial meal. Some basil would be good, too.

-Take two chicken cutlets and pound until ? inch thick (or just buy the thin-sliced if they're on sale). On each cutlet, put two slices of ham, two slices of provolone (or any cheese you like) and several stalks of blanched asparagus. Roll each cutlet, season with salt and pepper, and place seam-side down in a hot sauté pan coated with a little oil. Cook for 3-4 minutes per side. If you have a little more time, try making a Dijon pan sauce to go along with it , which only takes a few more minutes.

-Add a tablespoon of olive to sauté pan and heat until almost smoking. Add sea scallops that you've thoroughly dried and seasoned with salt and pepper-aboutfive per person-and don't touch them! Let them brown for 3-4 minutes. When you can easily move them, they should be ready to flip. Cook on the other side 3-4 minutes until opaque. Season with lemon juice and chives. Take them out of the pan and add several handfuls of baby spinach, to the point of overflowing. Gently toss and watch the spinach magically wilt down. Remove to serving platter and put the scallops on top.

Rachael Simon Cordella, LMSW, is a professional social worker and amateur cook. Her blog, The City Girl Cooks , features easy and (mostly) healthy recipes using everyday ingredients. She and her husband live in New York City and cook together in their tiny kitchen.
Photograph by George Doyle/Getty Images.

---