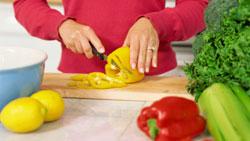 Thank you to Chassity Johnson of Sully's Garden , who wrote in to say "Cooking is often my way to unwind at the end of each day. Nothing can brighten my mood better than pouring a glass of wine, turning up the blues on the stereo, and chopping vegetables. It's even better when I know that I'm preparing a foolproof meal that will be ready in plenty of time for me to spend some quality time with my husband."
She sent the following three recipes for us to try.
Asparagus Penne

 

1. Cook ? box wheat pasta according to package directions (about 6 minutes for al dente).

2. Meanwhile, heat oil in skillet. Add several squirts of anchovy paste. (Once this dissolves in the hot oil, it will take on a nutty flavor and make a great base for the sauce.)

3. Add ? diced white onion to skillet and cook until softened; add several cloves of minced garlic and cook for a couple more minutes; add asparagus pieces (clean well and cut into 2-inch pieces); add several splashes of Louisiana hot sauce and a small handful of grated Parmesan cheese; cook for about 5 minutes or until asparagus softens slightly.

4. Add drained pasta, more hot sauce, and more cheese; toss and cook until mixture is combined.

Makes 3 servings.

Corn-Stuffed Bell Peppers

1. Cut 2 bell peppers in half and seed (use red, orange, or yellow), and broil on low for 10 minutes per side (broil each side until tender, right before forming a brown layer); season pepper with oil and salt if desired.

2. Sauté mushrooms (optional) until tender and brown; add 3 cloves minced garlic, and cook for a couple of minutes; add ? bag of frozen corn and a few tablespoons of Ro-tel.

3. Season with salt, plenty of oregano, a little chili powder, and cumin; cook until hot or until bell peppers are softened.

4. Stuff each pepper half with corn mixture; top with 2 small slices of Monterey Jack cheese; broil until cheese is melted.

Makes 2 servings.

Broccoli Roll-Ups

1. Preheat oven and pizza stone (or baking pan) to 350 degrees.

2. In a large bowl, combine chopped broccoli, a can of drained Ro-tel, a can of drained mushrooms, garlic powder, Tony Chachere's seasoning, and 2 tablespoons mayonnaise.

3. Unroll Pillsbury Big & Flaky Crescent Rolls and break apart to make 6 triangles.

4. Remove pizza stone from oven, place one triangle on the stone, and quickly spoon about 2-3 tablespoons broccoli mixture over large end of triangle.

5. Place a half-slice of Velveeta cheese over the mixture, then fold the small end of the triangle over the top. Only assemble one roll-up at a time to ensure that the small end of the crescent roll doesn't stick to the stone/pan.

6. After assembling all 6 roll-ups, bake in the preheated oven for 16-19 minutes.

Makes 6 servings if you include a side dish.
Thanks also, Emily Wright, who says, "When I'm in a hurry, I grab an onion, some garlic, and a vegetable; throw in some stock, water, or coconut milk; spice to my liking, and blend it all together for soup. Add a poached egg and it's a full, filling meal for one, or even two. And if I have more time, I always make too much dinner and then pack half of it up for lunch the next day. Especially with pastas."
Emily has also posted a recipe for the " best tomato sauce you've ever tasted. For real. I'm not even exaggerating. Yes! " at her blog .
Please continue to send in any recipes or food ideas that meet the required triumvirate of being cheap, quick, and healthy. (Send them to me at emma@thecomebackbook.com .) If anyone has any solutions for what to bring to eat on the plane when traveling alone or with kids, I will be eternally grateful.
---