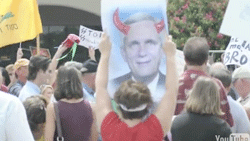 KJ, the Democrats may not have a poster child for health care reform, but they are getting a public enemy . Health and Human Services Secretary Kathleen Sebelius and Sen. Arlen Specter  got shouted down by anti-health care reform protesters at an embarrassing town hall meeting Sunday. (At one point, Sebelius had to threaten to walk off the stage.) But even though they had Sebelius and Specter temporarily tongue-tied, for Democrats, the protesters may end up being exactly what the doctor ordered.
Pundits are already predicting a 
backlash
against the protesters, who have been 
wreaking havoc at town halls
since the House went on recess last week. Even though there's a wave of populist anger at insurance companies and their "pre-existing conditions," the anger that's getting all the attention right now is that of right-wing protesters who think the government is going to encourage old people to
die faster
. To those who feel deep anxiety at the prospect of the government tampering with their health care, the protesters are heroic, for now. But they're going to become increasingly obnoxious to many who want to engage in a substantive debate about the merits of reform. Debates are hard to have when people are screaming, shouting, and waving Bibles around. The protesters have Democrats on the defensive for now, but if they keep up their antics through August, they're going to find themselves-not the Obama administration-the source of 
public frustration with reform
.
Photograph of protesters at a Texas town hall with Rep. Lloyd Doggett is a still from a video of the event.
---